Solid state spectroscopy : far infrared spectra of lanthanide ions in calcium, strontium and barium fluorides.
(1973)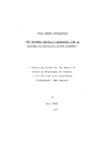 View/Open
Type of Content
Electronic Thesis or Dissertation
Thesis Discipline
Physics
Degree Name
Doctor of Philosophy
Publisher
University of Canterbury
Language
English
Collections
Abstract
The far infrared absorption spectra of trivalent lanthanide ion impurities in calcium, strontium and barium fluorides have been studied at 15°K and 85°K. For calcium fluoride, lanthanide ions in the latter half of the series give rise to a pair of strong, broad absorption bands in the region 50-100 cm⁻¹. Simple lattice dynamical models involving mass changes and force constant reductions are used to interpret the results, and the bands are shown to arise from resonance modes of vibration of the lanthanide ion at a tetragonal site.
Lanthanide ions in strontium and barium fluorides activate phonons of the pure crystal at high-symmetry points in the Brillouin zone, so that the absorption spectra correspond approximately to the phonon density of states. With strontium fluoride the resemblance becomes less obvious for lanthanide ions towards the end of the series, where diminishing ionic radii are expected to cause reductions in the impurity-lattice coupling constants.
Rights
All Rights Reserved