Computationally efficient velocity profile solutions for cardiac haemodynamics
(2004)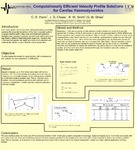 Type of Content
Conference Contributions - Published
Publisher
University of Canterbury. Mechanical Engineering.
ISBN
978-0-7803-8440-8
Collections
Authors
Hann, C.E.,
Chase, J.G.,
Smith, B.W.,
Shaw, G.M.
show all
Abstract
This paper reformulates the non-linear differential equations associated with time varying resistance in minimal cardio-vascular system models into a system of linear equations with an analytical solution. The importance of including time varying resistance is shown for a single chamber model where there is a 17.5% difference in cardiac output when compared with a constant resistance model. However, the increased complexity has significant extra computational cost. This new formulation provides a significant computational saving of 15x over the previous method. This improvement enables more physiological accuracy with minimal cost in computational time. As a result, the model can be used in clinical situations to aid diagnosis and therapy selection without compromising on physiological accuracy.
Citation
Hann, C.E., Chase, J.G., Smith, B.W., Shaw, G.M. (2004) Computationally efficient velocity profile solutions for cardiac haemodynamics. San Francisco, CA, USA: 26th Annual International Conference of the Engineering in Medicine and Biology Society, 1-5 Sep 2004. EMBC 2004 Conference Proceedings, 1, 944-947.
This citation is automatically generated and may be unreliable. Use as a guide only.
Keywords
Time varying resistance; Non-linear; Linear; Computationally efficient; Analytical solution