Partial Core Transformer for Energization of High Voltage Arc-Signs
(2007)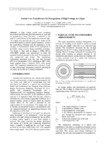 View/Open
Type of Content
Conference Contributions - Published
Publisher
University of Canterbury. Electrical and Computer Engineering.
Collections
Authors
Lynch, K.,
Bodger, P.S.,
Enright, W.,
Bell, S.
show all
Abstract
A high voltage partial core resonating transformer has been designed and constructed such that its magnetising current reactance is matched to the reactive current drawn by the capacitance of an arc-sign. The supply only provides the real power losses of the transformer plus any reactive power mismatch between the magnetizing reactance and the capacitance of the arc-sign. A mathematical model of the transformer is developed using a reverse design modelling technique. The model is then used to design a 50Hz, 8kVA, 230V/80kV, partial core transformer to meet the required electrical demand of the load. The transformer was constructed and tested. The transformer successfully resonated with the load and provided 68VAr of compensation when operating at 10kV while being supplied from a domestic 230V, 10A, power outlet. The completed transformer has a finished weight of 69kg and has been successfully used for powering an arc-sign at an exhibition of electric sculptures.
Citation
Lynch, K., Bodger, P., Enright, W., Bell, S. (2007) Partial Core Transformer for Energization of High Voltage Arc-Signs. Ljubljana, Slovenia: 15th International Symposium on High Voltage Engineering (ISH), 27-31 Aug 2007.
This citation is automatically generated and may be unreliable. Use as a guide only.