Fire Engineering Design Guide
(2008)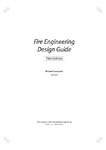 View/Open
Type of Content
Authored Books
Publisher
Centre for Advanced Engineering, University of Canterbury
ISBN
9780908993420
Collections
Editors
Spearpoint, Michael
Abstract
The Fire Engineering Design Guide was first published in 1994, following the introduction in 1991 of a new building regulatory environment in New Zealand. This regulatory environment allows building designers to meet the requirements of the New Zealand Building Code either through the use of prescriptive provisions or by the use of specific fire engineering design, sometimes referred to as 'performance-based design'. The second edition of the Design Guide was published in 2001 and it contained several new chapters, including more information on the Australian building regulatory environment. The use of performance-based design in fire engineering has become more prevalent around the world with several countries now allowing for specific fire engineering design solutions and others looking to follow suit in the near future.
This Design Guide provides a useful introduction to fire engineering to those who are new to the discipline or want to get an overview of the range of problems that fire engineers deal with. Fire science and engineering continues to develop at a rapid pace and new research findings, design methods and computer tools are being made available all of the time. Since this Design Guide was first published there have been many newer and much more detailed books published in the fields of fire science and engineering. Readers should consult these books to get a deeper understanding of the topics covered in this Design Guide.
The third edition has built on the work of the original contributors, with the help of several new authors and reviewers. New chapters on Fire Risk and Rural Fires have been added to this edition, as well as major updates to several other chapters.
Rights
All Rights Reserved
Related items
Showing items related by title, author, creator and subject.
Buchanan, A H

(

Centre for Advanced Engineering, University of Canterbury

,

2001

)

The purpose of this Design Guide is to provide an introduction to fire engineering. It will be useful for those wishing to carry out or review specific fire engineering designs to meet the requirements of the New Zealand ...

Murnane D

;

Kopsch T

;

Symons D

(

2018

)

As portable devices dry powder inhalers (DPIs) are an attractive inhalation therapy option for patients who struggle with inhalation coordination of pressurized metered dose inhalers. DPIs also offer flexibility for ...

Spellman, P.M.

;

Abu, A.K.

;

Carradine, D.M.

;

Moss, P.J.

;

Buchanan, A.H.

(

University of Canterbury. Civil and Natural Resources Engineering

,

2012

)

This paper describes a series of three full-scale furnace tests on post-tensioned LVL box beams loaded with vertical loads, and presents a proposed fire design method for post-tensioned timber members. The design method ...