The future of Pacific regionalism: Challenges and prospects
(2017)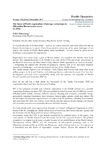 View/Open
Type of Content
Journal Article
Publisher
Macmillan Brown Centre for Pacific Studies
ISSN
2463-641X
Collections
Abstract
Fakaalofa lahi atu, Bula vinaka. Bonjour. Kia ora and Good Evening. It's a great pleasure to be here today. I want to say vinaka vaka levu and thank Professor Steven Ratuva for inviting me to speak. I have been asked to cover one of the great challenges of our region: The Future of Pacific Regionalism. More specifically, I've been asked to speak on the challenges and prospects for regionalism. Regionalism has always been a goal of Pacific leaders, yet somehow the benefits have been elusive. The regionalism theme in the Pacific is not new. In the 1970s one of my predecessors at the Pacific Community, Dr Macu Salato of Fiji, defined Pacific regionalism as "unity in diversity" – recognising the region's rich diversity of geography, cultures, and so on, and many common interests and challenges – not least the shared resource of the Pacific Ocean. The Pacific Islands region is one of contrast – from Papua New Guinea with more than seven million people, to Niue and Tokelau, each with populations under two thousand. It is clear that development potential varies considerably, along with the capacity and capability of Pacific Island Countries and Territories (PICTs). First, let me tell you a little about the Secretariat of the Pacific Community (SPC)–an organisation that I now have the honour of leading.
Related items
Showing items related by title, author, creator and subject.
Thomas, Steven Barry

(

University of Canterbury. National Centre for Research on Europe

,

2004

)

The European Union (EU) has comparative advantage in regional integration. Moreover, regionalism is a growing phenomenon, as both the growing number of regional trade agreements and literature on new regionalism indicate. ...

Jennings, M. A.

(

University of Canterbury. History

,

1921

)

In order to enable the reader to see in his mind's eye the history of Lawrence unfolding itself before him, he must first become acquainted with the history of the district in which the future town is to arise. As the ...