"Violence is not part of our culture:" Ruminations about violence, culture and gender
(2017)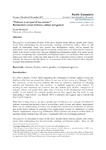 View/Open
Type of Content
Journal Article
Publisher
Macmillan Brown Centre for Pacific Studies
ISSN
2463-641X
Collections
Abstract
This paper is an excavation of some of the major theories about violence, gender, and culture: mostly from anthropology but also philosophy, sociology and feminist studies. Many are still taught in universities; some have moved into development circles and/or entered the mainstream; some undergird the logic for commonly-used phrases; and all provide the context in which more recent theories have emerged. Highlighting assumptions within them opens up the possibility of exploring why communities, development experts, and academics often seem to be talking past each other; in this case with regard to the relationship between culture and gender violence. An excavation like this allows for an assessment of the stakes involved when using the language from particular theories.
Keywords
development agencies; gender; culture; Taukei; violence
Related items
Showing items related by title, author, creator and subject.
Due Theilade, Karen

(

University of Canterbury. School of Social and Political Sciences

,

2011

)

Poststructuralist and other critical analyses of sexuality, gender and identity are used to examine how New Zealand and Danish young adults drew on and challenged available discourses as they responded to representations ...

Stachurski, Christina Anna

(

University of Canterbury. English

,

1993

)

In the early 1980s Foreskin's Lament swept the country as a major artistic and commercial success. In this play dramatist Greg McGee challenges the traditional New Zealand male role and associated behaviour. Foreskin ends ...

Brown, Eva

(

University of Canterbury

,

2017

)

Gender equality is a fundamental human right and consequently the foundation to achieving sustainable development. As human beings, women and girls, men and boys, are all entitled to living a life of dignity, free of want ...