"Violence is not part of our culture:" Ruminations about violence, culture and gender
(2017)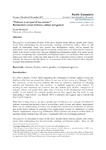 View/Open
Type of Content
Journal Article
Publisher
Macmillan Brown Centre for Pacific Studies
ISSN
2463-641X
Collections
Abstract
This paper is an excavation of some of the major theories about violence, gender, and culture: mostly from anthropology but also philosophy, sociology and feminist studies. Many are still taught in universities; some have moved into development circles and/or entered the mainstream; some undergird the logic for commonly-used phrases; and all provide the context in which more recent theories have emerged. Highlighting assumptions within them opens up the possibility of exploring why communities, development experts, and academics often seem to be talking past each other; in this case with regard to the relationship between culture and gender violence. An excavation like this allows for an assessment of the stakes involved when using the language from particular theories.
Keywords
development agencies; gender; culture; Taukei; violence
Related items
Showing items related by title, author, creator and subject.
Harrington E

(

Horror Homeroom

,

2020

)

In the early 1980s, first Mrs Voorhees and then her damaged, homicidal son hacked and slashed their way along the shores of Crystal Lake. Fifteen years later, in New Zealand, my friends and I - all members of the VHS ...

Delph, Lynda F.

(

University of Canterbury. Department of Botany

,

1988

)

The evolution and maintenance of gender dimorphism was investigated in the New Zealand genus Hebe (Scrophulariaceae). Hebe originated within New Zealand and gender dimorphism is postulated to have evolved separately four ...

Dixon K

;

Gaffikin M

(

2016

)

Purpose: Applications of accounting ideas and practices invariably have consequences. The people in any way responsible for these applications cannot know all possible consequences; however, this predicament is yet more ...