When the 'tuna wars' went hot: Kiribati, the Soviet Union, and the fishing pact that provoked a superpower
(2017)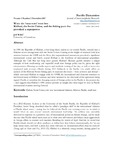 View/Open
Type of Content
Journal Article
Publisher
Macmillan Brown Centre for Pacific Studies
ISSN
2463-641X
Collections
Abstract
In 1985 the Republic of Kiribati, a low-lying island nation in the central Pacific, entered into a fisheries access arrangement with the Soviet Union. Coming at the height of renewed Cold War tensions between the USSR and the West, this unprecedented manoeuvre provoked a significant international uproar and briefly placed Kiribati at the forefront of international geopolitics. Although the Cold War has long since passed, Kiribati"s Russian gambit remains a unique example of how confronting and impactful small state foreign policy can be, given the right circumstances. Drawing on media reports and academic writing of the day, as well as interviews conducted with relevant officials during 2017 fieldwork in the Pacific, this article offers an analysis of the Kiribati/Soviet fishing pact. It examines the issues – both at home and abroad – which motivated Kiribati to engage with the USSR; the international and domestic reactions to the Government of Kiribati"s actions; and what occurred in the aftermath of the agreement being signed. Finally, it considers the changing nature of foreign policy in the Pacific in the present day – and suggests that Kiribati"s 1985 actions provide an insight into what might be seen in Pacific international relations moving forward.
Keywords
small state; Pacific; fisheries; international relations; cold war; Soviet Union; Kiribati
Related items
Showing items related by title, author, creator and subject.
Willis, Jeffrey

(

Macmillan Brown Centre for Pacific Studies

,

2021

)

This article explores the benefits and challenges of involvement by international NGOs in the Universal Periodic Review (UPR) of twelve Pacific Island states before the UN Human Rights Council. An interesting feature ...

Choi, YoonAh

(

University of Canterbury. National Centre for Research on Europe

,

2011

)

This doctoral research is a multi-disciplinary study which draws from discourse theory, linguistics and European Union studies. It aims to explore the meaning, and linguistic representations of the European Union (EU) ...