ASPIRE: Ontology Workspace and Problem Editor
(2006)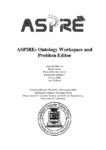 View/Open
Type of Content
Theses / Dissertations
Publisher
University of Canterbury
Language
English
Collections
Authors
Mitrovic, Antonija
Martin, Brent
Suraweera, Pramuditha
Zakharov, Konstantin
Milik, Nancy
show all
Abstract
This document reports the work done from 1.12.2005 to 28.2.2006 on the ASPIRE project, funded by the e-Learning Collaborative Development Fund grant 502. In this project, we are developing a Web-enabled authoring system called ASPIRE, for building intelligent learning agents for use in e-learning courses. ASPIRE will support the process of developing intelligent educational systems by automating the tasks involved, thus making it possible for tertiary teachers with little computer background to develop systems for their courses. The current report describes two components of the system: the Ontology Workspace, which support the author while developing the domain ontology, and the Problem Editor, which allows the author to specify problems to be given to students, and their solutions.
Related items
Showing items related by title, author, creator and subject.
Mitrovic, Antonija

;

Martin, B.

;

Suraweera, P.

;

Zakharov, K.

;

Milik, N.

;

Holland, J.

(

University of Canterbury. Computer Science and Software Engineering

,

2006

)

This report covers the third reporting period of the ASPIRE project, and presents the progress made on ASPIRE-Author. We have implemented two new components on the authoring side: Ontology Workspace and Problem Editor. ...

Rajabian, Mostafa

(

University of Canterbury. Computer Science

,

1983

)

This thesis describes the design and implementation of a new and efficient data structure used for the workfiles of multiuser line-oriented text editors. One of the design objectives is the ability to use the editor (i.e. ...

Gert J. J. Biesta is a widely known and respected scholar in the field of education. He has published a large number of articles, books, chapters and other work. From 1999 to 2014, he was editor-in-chief of the journal ...