The trophic significance of Krill in the Southern Ocean Ecosystem.
(2007)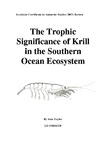 View/Open
Type of Content
Theses / Dissertations
Thesis Discipline
Science
Degree Name
Postgraduate Certificate in Antarctic Studies
Publisher
University of Canterbury
Language
English
Collections
Abstract
The Southern Ocean is a highly productive ecosystem that supports large populations of whales, seals, birds and fish and plankton. It is also one of the largest marine ecosystems on earth, covering approximately 36 million km², bounded by the Antarctic Convergence to the north (Bathmann et al 2000). Supporting the 30 million year old Antarctic marine ecosystem is the small but abundant Antarctic krill, or Euphausia superba as it is known scientifically (Major 1985). Krill are a key component of the diet of baleen whales, seals, penguins, petrels, terns, albatrosses, squid and many fish species (Major 1985). Antarctic krill are commonly found between the Antarctic coast and the edge of the pack ice but are also found north as far as the 59°S (Everson 1977). Since the early 1920s, increasing efforts have been made to learn more about this cryptic species and its significance in the Antarctic ecosystem (Siegel 2005). Research initiatives such as the First and Second International BIOMASS Experiments (FIBEX and SIBEX) have focussed on biology, ecology and population dynamics of krill (Miller and Hampton 1989). Studies such as these have provided information on krill and the functioning of the Southern Ocean food web, yet there are still many gaps in our knowledge of krill life histories and trophic interactions due to the difficult logistics of conducting research in the Southern Ocean. In order to gain critical life history information on Antarctic krill it is necessary for scientists to compete with extreme weather and cover large areas of the Southern Ocean surrounding Antarctica which makes research difficult. Quantitative data on the biomass of krill, larval recruitment into the population and information on the trophic relationships of krill in the southern ocean food web are required before a proper understanding of population dynamics can be achieved. Anthropogenic impacts on the krill population also need to be examined in order to identify interactions within the ecosystem and manage the krill resource appropriately. The purpose of this review is to provide an overview of the biology and physiology of Antarctic krill, while presenting a synthesis of current knowledge on krill populations and their trophic significance in the Southern Ocean ecosystem. The role of krill in biogeochemical cycling, specifically the Biological Carbon Pump will also be identified and potential implications of commercial krill harvesting will be discussed.
Rights
All Rights Reserved
Related items
Showing items related by title, author, creator and subject.
Jones, Belinda

(

University of Canterbury

,

2009

)

Antarctic krill or Euphausia superba is considered as a central component to the Antarctic food web. It has been written that different parts of the marine ecosystem are made up of predators that rely directly or indirectly ...

Kremser S

;

Harvey M

;

Kuma P

;

Hartery S

;

Saint-Macary A

;

McGregor J

;

Schuddeboom A

;

von Hobe M

;

Lennartz ST

;

Geddes A

;

Querel R

;

Peltola M

;

Sellegri K

;

Silber I

;

Law CS

;

Flynn CJ

;

Marriner A

;

Hill TCJ

;

DeMott PJ

;

Hume CC

;

Plank G

;

Graham G

;

Parsons S

;

McDonald, Adrian

(

Copernicus GmbH

,

2021

)

Due to its remote location and extreme weather conditions, atmospheric in situ measurements are rare in the Southern Ocean. As a result, aerosol–cloud interactions in this region are poorly understood and remain a major ...

Schwalger-Smith, Briar

(

University of Canterbury

,

2014

)

Increasing anthropogenic carbon dioxide in the atmosphere decreases the pH of the ocean and the carbonate ion concentration. Colder temperatures and winds causing the upwelling of deep sea water are two factors that ...