Be careful, Here is Antarctica - the statistics and analysis of the grave accidents in Antarctica
(2010)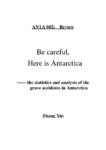 Type of Content
Theses / Dissertations
Thesis Discipline
Science
Degree Name
Postgraduate Certificate in Antarctic Studies
Publisher
University of Canterbury
Language
English
Collections
Abstract
Imagine wind chills that freeze exposed skin in seconds, blizzards that reduce visibility to a few feet, months of darkness, and seemingly endless expanses of featureless snow and ice. Here is Antarctica, which is well known to have the lowest temperature, the strongest wind and the longest night in the world. Accordingly, it is one of the most dangerous places which have much accident in the history. This essay lists the recorded grave accidents in Antarctica from two aspects. The first paragraph introduces the ancient accidents along the history of people's activities in this continent, with analyzing the reasons of them. The second part of the assoeted accidents subsequently emphasize some kinds of the severe accidents happened in Antarctica, also combing with the reason and ponderance investigation. The last paragraph summarizes the safety precautions from these grave accidents.
Rights
All Rights Reserved
Related items
Showing items related by title, author, creator and subject.
McLauchlan, Melissa

(

University of Canterbury

,

2013

)

In recent years there have been several accidents related to tourism in Antarctica, and the risks are continuing to escalate. There is potential for a catastrophe for the passengers involved, the rescuers, the research ...

Haverkamp, Abby

;

Siegfried, Alina

;

Genevieve, Murrell

;

Rooney, Nadia

;

Salamaca, Ricardo

(

2003

)

The Antarctic Treaty has been in existence for over 40 years now, and the Environmental Protocol for a decade. Yet both of these documents fail to specifically address the issue of accident liability. The Treaty does ...

Chilton, Mike

(

University of Canterbury

,

2004

)

Safety in aviation concerns managing risk rather than its elimination. This is certainly true for aircraft operations to, from and within the Antarctic region. This report looks to a series of accidents and incidents ...