Strategies for language maintenance in transnational adoption: which role for the parents?
(2017)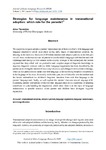 View/Open
Type of Content
Journal Article
Collections
Abstract
This paper investigates adoptive parents' representations of their children's birth-language and language negotiation which takes place during early stages of transnational adoption. By drawing on the interview discourse of 20 Italian transnational adoptive parents, in the first part we will focus on the reasons that led parents to use the child's language with him/her and with orphanage staff during the first contacts in the country of origin. In the second part, the parents reported that they relied both on productive and receptive acquired linguistic knowledge to negotiate linguistic contexts with the child. Language negotiation has been described by the parents as involving the practice of intercomprehension, a plurilingual communicative strategy, which allows participants to speak their first language, while exhibiting receptive competences in the language of the other. Eventually, in the third part, we will describe how the mothers and the fathers rationalized the children's linguistic transition from their first language to the parents' language and, finally, we will explore the parents' discourse around language shift. Examining parents' perceptions of the role that language plays in the experience of adopting contributes to understanding the negotiation which takes place over the topic of language maintenance in specific contexts where parents and children have divergent linguistic repertoires.
Keywords
transnational adoption; adoptive parents; language negotiation; language maintenance; intercomprehension
Related items
Showing items related by title, author, creator and subject.
Matheson, D.

(

University of Canterbury. School of Social and Political SciencesUniversity of Canterbury. Media and Communication and Journalism

,

2010

)

This book is a series of analyses of how interviewers and interviewees position themselves and each other in Israeli television news interviews, all based on interviews from the early evening current affairs show, 'Erev ...

Pongcharoen, Kotchaporn

(

University of Canterbury

,

2020

)

This doctoral research examined the causal factors contributing to organic farming practices and certification in Thailand. Organic farming practices involve farmers using methods of crop production that rely on specific ...

Cunningham, U.

;

King, J.

(

University of Canterbury. New Zealand Institute of Language, Brain & BehaviourUniversity of Canterbury. School of Teacher EducationUniversity of Canterbury. Aotahi School of Maori and Indigenous Studies

,

2015

)