Cod in hot water : the thermal physiology of blue cod (Parapercis colias), black cod (Paranotothenia angustata) and emerald rock cod (Trematomus bernacchii).
(2017)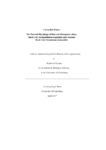 Type of Content
Theses / Dissertations
Thesis Discipline
Biological Sciences
Degree Name
Master of Science
Publisher
University of Canterbury
Language
English
Collections
Abstract
Climate change is believed to be altering the Earth's climate, and driving ocean systems into conditions which could fundamentally and irreversibly modify ecology systems, in particular ectothermic marine ecosystems are at great risk. By understanding the relationship between temperature and rates we gain insight into species thermoregulatory behaviour. This project was aimed at investigating what effects chronic and acute temperature changes will have on three species of fish species, blue cod an endemic New Zealand species, black cod a Sub-Antarctic species, and emerald cod an Antarctic species. Fish were exposed to chronic temperature changes for a period of four weeks to gain insight into their ability to acclimate to new temperatures. Blue cod were chronically exposed to 8°C, 12°C, 18°C, black cod were chronically exposed to 8°C, 12°C and emerald cod were exposed to 2°C. Ventilation rate, heart rate and oxygen consumption were measured during acute temperature changes to determine tolerance ranges and the limiting factors to thermal tolerance. Each species was exposed to a different range of acute temperatures depending on chronic exposure temperature.
The results showed that blue cod proved to be the most thermally flexible species, showing partial to complete acclimation, with large shifts in tolerance range between acclimations. Black cod and emerald cod showed a shift in tolerance ranges but did not show strong acclimation. In conclusion ventilation rate and heart rate proved to be limiting factors to thermal tolerance. At higher acute exposure temperatures fish were pushed past their tolerance ranges and oxygen consumption reached levels so high that even if ventilatory and circulatory systems did not fail, it would only be a matter of time before mortality occurred. Further studies are needed to understand the mechanisms behind limitation of thermal tolerance to gain an in-depth understanding of how climate change will impact marine ecosystems.
Rights
All Rights Reserved