Atmospheric physics : electron density variations in the mesosphere
(1974)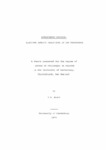 View/Open
Type of Content
Theses / Dissertations
Thesis Discipline
Physics
Degree Name
Doctor of Philosophy
Publisher
University of Canterbury
Language
English
Collections
Abstract
The theory of the differential absorption and differential phase experiments is examined, and it is found that the differences in predicted electron densities due to different hypothetical reflection processes are in general no larger than experimental uncertainties.
Results of differential absorption and differential phase measurements are compared.
It is found that electron densities in the mesosphere above Christchurch can be affected by energetic particle precipitation. Evidence is also found for increases in electron concentration associated with a stratospheric warming, but apart from this there is no clear evidence for stratosphere-ionosphere coupling above Christchurch.
Model studies show that much of the variation over time scales of four days or more above Christchurch could be accounted for by vertical transport of nitric oxide. However, other results make it likely that other processes, such as variations in loss rate, are also important.
Rights
All Rights Reserved