Voices of dissent in the poetry of Imtiaz Dharker
(2017)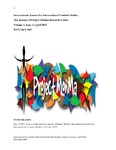 View/Open
Type of Content
Journal Article
Publisher
Project Monma Research Centre
ISSN
2463-2945
Abstract
Feminism as a movement acquired momentum in the last century. Feminist theorists from all corners of the world have put forward their views and ideologies to analyse and interpret the rights and duties, the laws and regulations which are exclusive to women. They have discussed, debated and deliberated on sundry affairs concerned with a woman, right from domestic drudgery to her involvement in official engagements, from cultural taboos inflicted on her as a girl in childhood to her perils even in old age, from puberty to post-menopause stage in her life. The heat of feminist discourse has hit contemporary Indian women poets writing in English, and therefore they have documented their perspectives through poetry leaving poignant impressions in the readers' minds. This article is an evaluative approach to explore the impact of culture and religion, mostly Islam and partly Hinduism in different aspects of women's lives. Her poems exhibit how the dictates of religious authority and tradition wipe away equality, compassion, and humanity and stifle a woman's life to denigrate her personality to such an extent that she is rendered into self-depreciative non-entity in her own vision.
Citation
Das, S 2017, Voices of dissent in the poetry of Imtiaz Dharker, International Journal for Intersectional Feminist Studies, 3 (1), pp. 39-55.
This citation is automatically generated and may be unreliable. Use as a guide only.
Keywords
Burqua; feminism; gender relations; Islam; patriarchy
Rights
Creative Commons Attribution 4.0 International License.
Except where otherwise noted, this item's license is described as Creative Commons Attribution 4.0 International License.
Related items
Showing items related by title, author, creator and subject.
Kumar, Ajay

(

Project Monma Research Centre

,

2020

)

Before the 1950s, the concern of Indian Poetry in English by women was completely different. They generally dealt with the common issues of human relations. Apart from Toru Dutt, no early woman writer in English from India ...

Basante, Pamela Nuñez

(

Project Monma Research Centre

,

2019

)

Using the perception of the hijab in European society, I intend to highlight the role of the media in the construction of stereotypes toward Muslim women in Europe, in the hope of opening a discussion of the topic. By ...

Mushtaq, Sabah Al

(

Project Monma Research Centre

,

2017

)

This article adopts a social interactionist and constructionist approach to analyse humour as a tool for gender construction and deconstruction mainly about two genders, men and women. That is explained by highlighting the ...