Design and prototyping of a High Country Electric Vehicle (HiCEV).
(2016)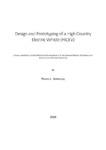 View/Open
Type of Content
Theses / Dissertations
Thesis Discipline
Electrical Engineering
Degree Name
Master of Engineering
Publisher
University of Canterbury
Language
English
Collections
Abstract
The development of a High Country Electric Vehicle has come about in response to a farmers desire to reduce the dependence on fossil fuels on his station. Electric vehicles have become more prominent in the urban commuter vehicle market over recent years, and are gaining greater acceptance as people look to be more environmentally aware. This project shows that electric vehicles also have a place in the primary sectors in an off-roading, rugged context. The conversion vehicle of choice is the Toyota Land Cruiser 70 Series, an iconic farming vehicle renowned for its reliability in challenging operating conditions. The vehicle was stripped of components associated with the 1-HZ internal combustion engine (ICE) drivetrain, and electrical drivetrains was scoped, sourced and implemented in the vehicle. This report investigates the systems integration aspects associated with modern electrical vehicle components. The aspects of integration covered mechanical analysis of shaft coupling, interfacing CANbus systems, high voltage system safety and low voltage wiring loom mapping. The vehicle has reached self-propulsion and validation testing against the initial vehicle modeling is underway.