Rate and reasons for hearing aid non-use in Aotearoa/New Zealand.
(2016)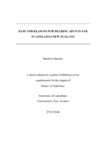 View/Open
Type of Content
Theses / Dissertations
Thesis Discipline
Audiology
Degree Name
Master of Audiology
Publisher
University of Canterbury
Language
English
Collections
Abstract
Background: It has been estimated in overseas studies that between 1% and 40% of hearing aids dispensed are not used (Dillon et al, 1999; Kochkin, 2005; Lupsakko & Kautiainen, 2005; Parving & Sibelle, 2001; Smeeth et al, 2002; Stark & Hickson, 2004). Hearing aid non-use has not been evaluated in the New Zealand context, so it is the aim of this study to determine the rate of hearing aid non-use in New Zealand and to investigate factors that may predict whether hearing aid adopters go on to be successful hearing aid users. Methods: Participants engaged in a phone interview that was conducted to investigate factors affecting hearing aid use. The interview questions were related to the Health Belief Model and thus focused on perceived susceptibility, perceived severity, perceived barriers, perceived benefits and self-efficacy of hearing aid use. Descriptive qualitative analysis was then applied to analyse themes from the interviews. Results: Ten barriers and nine facilitators to hearing aid use in New Zealand were found. Perceived severity and self-efficacy were also studied in relation to hearing aid use. It was found that perceived severity did affect hearing aid use, with those who perceive their hearing severity to be worse, wearing their hearing aids more than those who perceive no or little hearing difficulty. Whereas self-efficacy of hearing aid management did not have a significant relationship with hearing aid use. Conclusion: The results from this study highlight reasons why hearing aid adopters become successful or unsuccessful hearing aid users. It is hoped clinicians will be able to provide additional support to those who are considered unsuccessful users or at risk of becoming an unsuccessful user.
Rights
All Rights Reserved
Related items
Showing items related by title, author, creator and subject.
Masters, Rebekah

(

University of Canterbury

,

2016

)

Background: It has been estimated in overseas studies that between 1% and 40% of hearing aids dispensed are not used (Dillon et al, 1999; Kochkin, 2005; Lupsakko & Kautiainen, 2005; Parving & Sibelle, 2001; Smeeth et al, ...

Blood, Hannah L.

(

University of Canterbury

,

2016

)

Introduction: Despite evidence that hearing aids (HA) are effective in treating hearing impairment, many individuals who own HAs do not use them. The disuse of HAs can impact upon a person's quality of life, relationships ...

Small, D.

(

University of Canterbury. School of Educational Studies and Human Development

,

1996

)