Validation of the test of masticating and swallowing solids (TOMASS).
(2015)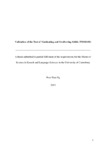 View/Open
Type of Content
Theses / Dissertations
Thesis Discipline
Speech and Language Sciences
Degree Name
Master of Science
Publisher
University of Canterbury
Language
English
Collections
Abstract
Objective: Clinical swallowing assessment is used to identify patients at risk of swallowing impairment and aspiration. Most clinical swallowing assessments are based on subjective observations instead of quantitative measures and provide very little information on pharyngeal phase pathophysiology. This could affect clinical judgement regarding referral for instrumental assessment. The Test of Masticating and Swallowing Solids (TOMASS) has been developed as an alternative to the Timed Water Swallow Test (TWST) to provide objective information on efficacy of solid bolus ingestion. Previous studies have shown that the TOMASS is able to detect changes in the oral phase but no study has investigated its' sensitivity to changes in the pharyngeal phase of swallowing. This study will validate the TOMASS against videofluoroscopic swallowing study (VFSS) for detecting pharyngeal phase pathophysiology. Participants: Fifteen patients were recruited from those referred for VFSS to the Rose Centre for Stroke Recovery and Research, Canterbury District Health Board and Counties Manukau District Health Boards. All participants were diagnosed with oral pharyngeal dysphagia and were deemed safe to ingest a cracker with minimal risk of aspiration during their clinically indicated VFSS. Method: After the completion of their clinically indicated VFSS, the participants were given a quarter of a single Arnott's Salada™ Cracker to ingest for TOMASS. Post-hoc, the VFSS recording was uploaded for biomechanical measurements. Spearman's correlation coefficients were used to evaluate the correlation between the TOMASS measurements that included the number of discrete bites, the number of masticatory cycles, the number of swallows and the total time taken, and the VFSS biomechanical measurements that included oral pharyngeal transit time, glossopalatal approximation duration, hyoid displacement, upper esophageal sphincter (UES) opening duration, the amount of residue in the valleculae and pyriform sinus, and presence of aspiration. Results: There were few significant correlations between TOMASS measures and VFSS biomechanical measurement and none supported the hypotheses of this study. Also, there was poor inter-rater reliability on the VFSS biomechanical measurements. Conclusion: The findings of this study do not support the hypotheses, however it has provided some evidence that the TOMASS may be useful to detect pharyngeal phase impairment. Further studies should consider a larger sample size to fully explore the potential of the TOMASS in providing more comprehensive results.
Rights
All Rights Reserved