Low damage brace using a Symmetrical Friction Connection (SFC) detail
(2015)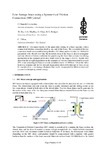 View/Open
Type of Content
Conference Contributions - Published
Publisher
University of Canterbury. Civil and Natural Resources Engineering
University of Canterbury. Mechanical Engineering
Collections
Authors
Chanchi Golondrino, J.,
Xie, R.,
MacRae, G.A.,
Chase, J.G.,
Rodgers, G.W.,
Clifton, C.
show all
Abstract
This paper reports on the quasi-static testing of a brace equipped with a symmetrical friction connection detail at one end of the brace. The symmetrical friction connection detail was assembled using Bisalloy 500 shims, and two Grade 8.8 - M16x100 galvanized bolts. Result show that the hysteresis loop of the brace is almost rectangular and that effective friction coefficient for quantifying the force that activates the sliding mechanism on the symmetrical friction detail varies in the range 0.21-0.33. Results also show that the strength degradation on the symmetrical friction connection detail is around 25% when subjecting the brace to a total cumulative travel of 6000mm. Given the stable hysteretic response and the low strength degradation exhibited by this type of brace, it can be considered as a low damage dissipater that can be incorporated in different structural systems for dissipating seismic energy.
Citation
Chanchi Golondrino, J., Xie, R., MacRae, G.A., Chase, J.G., Rodgers, G.W., Clifton, C. (2015) Low damage brace using a Symmetrical Friction Connection (SFC) detail. Rotorua, New Zealand: 2015 New Zealand Society for Earthquake Engineering Annual Conference (NZSEE), 10-12 Apr 2015. 8pp.
This citation is automatically generated and may be unreliable. Use as a guide only.
ANZSRC Fields of Research
09 - Engineering::0905 - Civil Engineering::090506 - Structural Engineering
09 - Engineering::0905 - Civil Engineering::090504 - Earthquake Engineering