TARLAN: A Simulation Game to Improve Social Problem-Solving Skill of ADHD Children
(2015)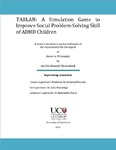 Type of Content
Theses / Dissertations
Thesis Discipline
Computer Science
Degree Name
Doctor of Philosophy
Publisher
University of Canterbury. Computer Science and Software Engineering
Collections
Authors
Ahmadi Olounabadi, Atefeh
show all
Abstract
Traditional classrooms in which children are expected to sit down quietly and listen to the teacher are not attractive to students in the era of technology. Therefore, researchers have started to study the possibilities of applying modern approaches to educational contexts. The interactive nature and the attractive virtual environment of computer games have made them a high-potential context for learning purposes. Sitting in a classroom is challenging for students with Attention Deficit Hyperactivity Disorder (ADHD)because of their inattentiveness, impulsivity, and hyperactivity, so that they distract easily.However, researchers have discovered that children with ADHD are not distracted when playing computer games. Therefore, computer games can be beneficial learning contexts that can attract ADHD children's attention in order to teach them. So far, a large number of studies have been conducted to help ADHD children. Some researchers have worked on cognitive-training approaches to improve skills such as eye gaze, emotion recognition, and working memory enhancement of ADHD children. In addition to the core deficits associated with ADHD, children with ADHDalso face difficulties in social situations, because they are not equipped with the required social skills. Therefore, they face many problems in society that they cannot solve. Consequently, they face peer rejection or social isolation and other mental health problems. Social problem solving is a step-by-step process. For ADHD children, learning the different steps of social problem solving is difficult because they are inattentive. Moreover, acting upon the steps is also hard for ADHD children because they are impulsive. We developed a simulation game, named TARLAN, wherein different steps of solving a social problemare taught to ADHD children. We designed and developed real life scenarios in which children can practise, in order to enable them to apply what they have learnt from the game to real-life situations.TARLAN was designed in three phases, from the elementary level to more advanced levels in order to help the ADHD child gradually become an independent problem solver in society. That happens by building strong scaffolding around the child's learning on the elementary level and remove it in the more advanced levels. This scaffolding/levelling within games has positive learning outcomes. Forty children with ADHD aged 8-12 were randomly allocated to two interventions, a computer-based intervention in which children worked with TARLAN and another intervention which was a standard psychological intervention. We also had a control group in which 20 children without ADHD also worked with TARLAN. The effectiveness of our game in improving social skills as well as problem behaviour of ADHD children was evaluated using the Social Skills Improvement System (SSIS), which is a standard psychologicalmeasure. The results of the SSIS showed that TARLANimproves children's social acquisition and problem behaviour significantly more than a more expensive standard intervention led by a psychologist (role playing).Moreover, after analysingdata collected during the study,we found out that TARLANimproved children's performance: the ADHD children reached the same performance level as children without ADHD after working with the game. These results open up the possibility of using games as helpful tools in teaching important life-changing subjects that are hard for ADHD children to learn from traditional approaches. Therefore, the educational life of ADHD children can be changedfrom a challenging experience into a rewarding and attractive experience and time and money can be saved.
Keywords
ADHD; Simulation Games; Social skills; Problem solving; social problem solving
Rights
Copyright Atefeh Ahmadi Olounabadi
Related items
Showing items related by title, author, creator and subject.
The characteristics of parent-child interaction and the impact it has on children's cognitive development has been an area of interest to developmental psychologists for many years, The seminal work of Vygotsky, which ...

Attention Deficit Hyperactivity Disorder (ADHD) is a developmental disorder which affects the ability to direct attention, and mediate impulsive behaviour. Children with ADHD tend to perform worse academically than their ...

Neumann E

;

Tajika H

;

Nakatsu N

;

Kato H

;

Fugitani T

;

Hotta C

;

Nazaki H

(

Bulletin of Kobe Shinwa Women's University: Graduate School of Literature

,

2018

)

The purpose of the study was to examine the efficacy of self-explanation for helping elementary school children solve mathematical word problems through tablet PC-based support over one year and a half. Ninety-two fifth ...