The Environmental Management of Whaingaroa/Raglan Harbour with a Focus on the Period Since 1970
(2014)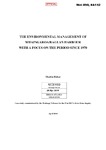 View/Open
Type of Content
Reports
Publisher
University of Canterbury. Ngai Tahu Research Centre
Collections
Abstract
The claims issues of relevance to this study of Whaingaroa Harbour generally focus on the management, environmental degradation and alleged cultural desecration of the Harbour by the Crown and its delegated local authorities—the Raglan County Council (RCC), the Raglan Harbour Board, the Ministry of Works and Development, the Waikato Valley Authority (WVA), the Department of Health, and in the last two decades the Waikato District Council (WDC) and the Waikato Regional Council (WRC). The Tainui o Tainui ki Whaingaroa or Tainui Awhiro (WAI 125) statement of claim notes that the Crown has enacted a series of resource management regimes which failed to take into account Tainui mana and kaitiakitanga. Tainui notes that these regimes had less engagement with the Tainui community before 1960 but that the Town and Country Planning and the Resource Management Act (RMA) regimes have in many ways continued the old pattern of limited engagement. In terms of the environmental degradation of the harbour, Tainui claims that the Crown has removed the right of Tainui to manage the harbour and allowed the destruction of kai moana. In addition, they allege that the Crown has allowed the desecration of wahi tapu, urupa and pa sites by permitting the construction of wind farms, giving greater priority to mining interests than to tangata whenua and generally making it difficult for Tainui to live on their tupuna whenua. The Ngati Tamainupo (WAI 775) statement of claim notes that the Crown has failed to recognise the claimants' mana and ownership over Whaingaroa Harbour by delegating management of the harbour and its resources to local authorities. Ngati Tamainupo also claim that the Crown has failed to protect the claimants' interests in the resources contained within Whaingaroa Harbour.
Citation
Fisher, M. (2014) The Environmental Management of Whaingaroa/Raglan Harbour with a Focus on the Period Since 1970. Waitangi Tribunal. 231pp..
This citation is automatically generated and may be unreliable. Use as a guide only.
ANZSRC Fields of Research
43 - History, heritage and archaeology::4303 - Historical studies::430320 - New Zealand history
21 - History and Archaeology::2103 - Historical Studies::210309 - Māori History
05 - Environmental Sciences::0502 - Environmental Science and Management::050205 - Environmental Management
Related items
Showing items related by title, author, creator and subject.