Air New Zealand internship 2016/2017
(2017)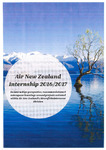 View/Open
Type of Content
Theses / Dissertations
Thesis Discipline
Engineering management
Degree Name
Master of Engineering in Management
Language
English
Collections
Abstract
People on the planet know WHAT they do. Some people know HOW they do it. But very few people know WHY they do what they do. This report details my experiences and learning's throughout an internship with Air New Zealand with focus on the high-level thinking of the what , the why and how . The internship with Air New Zealand served to expose me to a wide range of learning experiences within the Aviation and Aircraft Maintenance industry as well as business environments alike. Focus was maintained around the 7 learning objectives as defined within period 1 of the internship. Each learning objective has maintained focus to one or more of the three Air New Zealand deliverables or an area of personal application and growth for myself. Further to this, this project served to test my abilities in recognising and implementing MEM teaching to real-life situations, develop personal and professional learning's as well as how to add value to the sponsoring company.
Related items
Showing items related by title, author, creator and subject.
Barnhill, Danielle

(

University of Canterbury

,

2020

)

Recent global tsunami events have highlighted the importance of effective tsunami risk management strategies (including land-use planning, structural and natural defences, warning systems, education and evacuation measures). ...

Compton, Jessica

;

Buick, Danielle

;

Bodger, Glenn

;

White, Annabelle

;

Edmunds, Catherine

;

FitzGerald, Bethan

;

Reveley, Emma

;

van Gelder-Horgan, Karen

;

Wilson, Dan

;

Dickson, Madeleine

;

Thomas, Julie

;

Pavelka, Ariana

(

University of Canterbury, College of Education, Health and Human Development

,

2016

)

Welcome to the second issue of the Journal of Initial Teacher Inquiry. This journal celebrates inquiry based research as conducted by Initial Teacher Education (ITE) students completing the intensive, one year Master of ...

Tilley, Laura

;

Barnhill, Danielle

(

2019

)

Tsunami events including the 2004 Indian Ocean Tsunami and the 2011 Tohoku Earthquake and Tsunami confirmed the need for Pacific-wide comprehensive risk mitigation and effective tsunami evacuation planning. New Zealand is ...