Gating mechanism in tinnitus : explored in surgery-induced unilateral deafness in adult humans.
(2022)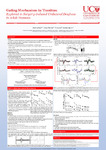 Type of Content
Posters
Authors
Park, Min Chul
O'Beirne, Greg
Maslin, Michael
Bird, Philip
show all
ANZSRC Fields of Research
42 - Health sciences::4201 - Allied health and rehabilitation science::420102 - Audiology
Related items
Showing items related by title, author, creator and subject.
Maslin, Michael

;

O'Beirne, Greg

(

2022

)

The Auditory Brainstem Response (ABR) is an electrophysiological response used for objective hearing testing. A sound is played in the ear to stimulate nerves in the brain, and the nerve activity is then measured. The ...

Budathoki DL

;

Tchorz J

;

O'Beirne, Greg A.

(

German Medical Science GMS Publishing House

,

2019

)

O'Beirne, Greg A.

;

Kelly-Campbell RJ

;

Welch D

(

2020

)

Most New Zealand audiologists will have used some form of simulation during their training. Many of us will remember the vintage electronic masking simulators, or the Parrot software for pure-tone audiometry, but ...