Tourist development at Mount Cook : patterns and processes since 1884
(1972)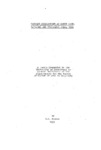 View/Open
Type of Content
Theses / Dissertations
Thesis Discipline
Geography
Degree Name
Master of Arts
Language
English
Collections
Abstract
To elucidate some of the principles of tourism, the patterns and processes of tourist development at Mount Cook since 1884 are examined. The history of tourist development at Mount Cook falls into five distinct periods. Within each period the development of communications, accommodation, attractions and tourists is traced. These four factors are shown to be the four basic components of a tourist system and a tourist system model is formulated. The model outlines the composite nature of tourism and suggest a balanced and integrated approach to tourist development planning and research is necessary.
Keywords
Tourism--New Zealand--History; Aoraki/Mount Cook National Park (N.Z.)
Rights
All Rights Reserved
Related items
Showing items related by title, author, creator and subject.
Stewart E

;

Espiner S

;

Liggett D

;

Taylor Z

(

2017

)

Situated to the south of New Zealand in the Southern Ocean are the New Zealand Subantarctic Islands, comprising the Auckland, Campbell, Antipodes, Snares and Bounty Islands. Sometimes referred to as the 'Forgotten Islands', ...

Yang Y

;

Campbell, Douglas

(

Springer Science and Business Media LLC

,

2021

)

The counterfactual account of physical computation is simple and, for the most part, very attractive. However, it is usually thought to trivialize the notion of physical computation insofar as it implies 'limited ...

Pearce, A.D.

;

Pons, D.J.

(

2017

)

Problem – When lean is adopted in traditional organisations it requires a widespread organisational change and many businesses fail to sustain lean practices. Purpose – The purpose of this work was to define lean implementation ...