A quest for the holy grail: Tactile precision, natural movement and haptic feedback in 3D virtual spaces
(2009)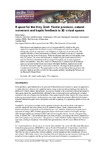 View/Open
Type of Content
Conference Contributions - Published
ISBN
9781877314827
Collections
Abstract
Three-dimensional immersive spaces such as those provided by virtual worlds, give unparalleled opportunities for learners to practically engage with simulated authentic settings that may be too expensive or too dangerous to experience in the real world. The potential afforded by these environments is severely constrained by the use of a keyboard and mouse moving in two dimensions. While most technologies have evolved rapidly in the early 21st century, the mouse and keyboard as standard navigation and interaction tools have not. However, talented teams from a range of disciplines are on serious quests to address this limitation. Their Holy Grail is to develop ways to interact with 3D immersive spaces using more natural human movements with haptic feedback. Applications would include the training of surgeons and musical conductors, training elite sports people and even physical rehabilitation. This paper reports on the cutting-edge technology projects that look most likely to provide a solution for this complex problem, including the Wiimote and the Microsoft's Project Natal. © 2009 Helen Farley and Caroline Steel.
Citation
Farley H, Steel C (2009). A quest for the holy grail: Tactile precision, natural movement and haptic feedback in 3D virtual spaces. ASCILITE 2009 - The Australasian Society for Computers in Learning in Tertiary Education. 285-295.
This citation is automatically generated and may be unreliable. Use as a guide only.
Keywords
3D; virtual worlds; haptic; Wii; immersion
ANZSRC Fields of Research
39 - Education::3903 - Education systems::390303 - Higher education
46 - Information and computing sciences::4607 - Graphics, augmented reality and games::460708 - Virtual and mixed reality
46 - Information and computing sciences::4608 - Human-centred computing::460806 - Human-computer interaction
Rights
All rights reserved unless otherwise stated
Related items
Showing items related by title, author, creator and subject.
Farley, Helen

(

Springer New York

,

2014

)

Virtual worlds (VWs) are providing welcome opportunities for the development of innovative curricula for tertiary educators. These environments potentially allow them to give their students authentic learning experiences ...

Educators have been quick to spot the affordances of virtual worlds (VWs) for authentic learning, distance education and for creating community among students. Though the affordances for many disciplines are obvious, there ...

Dong Z

;

Zhang J

;

Bai X

;

Lindeman R

;

He W

;

Clark, Adrian

;

Piumsomboon, Thammathip

(

2022

)

Recent advancements in both hardware and software for mobile devices have allowed developers to create better mobile Augmented Reality (AR) experiences, which has led to an increase in the number of mobile AR applications ...