Mapping the intimate relationship mind : comparisons between three models of attachment representations
(2002)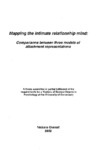 View/Open
Type of Content
Theses / Dissertations
Thesis Discipline
Psychology
Degree Name
Master of Science
Language
English
Collections
Abstract
This study tested and compared three models of the way multiple attachment working models are cognitively organized and structured. Model 1 suggests that attachment representation consists of relationship-specific working models and a single global working model that summarizes attachment across an individual's various specific relationships. Model 2 proposes that, instead of a global working model, three independent general attachment representations exist for the relationship domains of family, friendships and romantic partners. Model 3 describes attachment representation as a complex network of interconnected working models, constructed of both relationship-specific and relationship­ domain representations that are nested under an overarching global working model. Two hundred participants (100 males and 100 females) completed self-report ratings of general attachment within each of the three relationship domains, and self-report ratings of attachment for three specific relationships within each domain. As predicted, confirmatory factor analyses revealed, across both types of measurement and both attachment dimensions, that the best-fitting model was Model 3. These results were replicated across gender and current relationship status. Contrary to predictions, no differences in level of domain-differentiation were found according to levels of attachment anxious/ambivalence, avoidance, or attributional complexity. Implications for attachment theory and research, and the development, function and use of attachment working models are discussed.
Keywords
Attachment behavior; Interpersonal relations
Rights
All Rights Reserved
Related items
Showing items related by title, author, creator and subject.
Kollermann, Nicole

(

2003

)

This research investigated the links between self-perceptions and partner ideals, taking into account the multiple domains in which people evaluate these two constructs. In Study 1, 200 participants (100 males and 100 ...

This study investigates adolescent conceptualizations of romance, and explores some preliminary data on relational demographics in order to test the applicability of relevant developmental theories to the New Zealand ...

Hammond, Jean R. (Jean Reid)

(

University of Canterbury

,

1990

)

This longitudinal study examined the role of Hazan and Shaver's (1987) attachment theory of romantic love in the development of close relationships of fifty-one couples in steady or serious dating relationships. The relations ...