Integrating Equity Considerations into Agent-Based Modeling: A Conceptual Framework and Practical Guidance
(2022)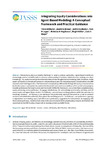 View/Open
Type of Content
Journal Article
Publisher
Journal of Artificial Societies and Social Simulation
ISSN
1460-7425
Language
en
Collections
Authors
Williams TG
Brown DG
Guikema SD
Magliocca NR
Müller B
Steger CE
Logan, Thomas
show all
Abstract
Advancing equity is a complex challenge for society, science, and policy. Agent-based models are increasingly used as scientific tools to advance understanding of systems, inform decision-making, and share knowledge. Yet, equity has not received due attention within the agent-based modeling (ABM) literature. In this paper, we develop a conceptual framework and provide guidance for integrating equity considerations into ABM research and modeling practice. The framework conceptualizes ABM as interfacing with equity outcomes at two levels (the science-society interface and within the model itself) and the modeler as a filter and lens that projects knowledge between the target system and the model. Within the framework, we outline three complementary, equity-advancing action pathways: (1) engage stakeholders, (2) acknowledge positionality and bias, and (3) assess equity with agent-based models. For Pathway 1, we summarize existing guidance within the participatory modeling literature. For Pathway 2, we introduce the positionality and bias document as a tool to promote modeler and stakeholder reflexivity throughout the modeling process. For Pathway 3, we synthesize a typology of approaches for modeling equity and ffer a set of preliminary suggestions for best practice. By engaging with these action pathways, modelers both reduce the risks of inadvertently perpetuating inequity and harness the opportunities for ABM to play a larger role in creating a more equitable future.
Citation
Williams TG, Brown DG, Guikema SD, Logan TM, Magliocca NR, Müller B, Steger CE Integrating Equity Considerations into Agent-Based Modeling: A Conceptual Framework and Practical Guidance. Journal of Artificial Societies and Social Simulation. 25(3).
This citation is automatically generated and may be unreliable. Use as a guide only.
Keywords
Agent-Based Model; Fairness; Justice; Reflexivity; Best Practice; Simulation
ANZSRC Fields of Research
46 - Information and computing sciences::4602 - Artificial intelligence::460202 - Autonomous agents and multiagent systems
46 - Information and computing sciences::4602 - Artificial intelligence::460207 - Modelling and simulation
44 - Human society::4410 - Sociology::441012 - Sociology of inequalities
50 - Philosophy and religious studies::5001 - Applied ethics::500103 - Ethical use of new technology
40 - Engineering::4010 - Engineering practice and education::401004 - Humanitarian engineering
Rights
All rights reserved unless otherwise stated
Related items
Showing items related by title, author, creator and subject.
Allan DD

;

Vonasch, Andrew

;

Bartneck, Christoph

(

Springer Science and Business Media LLC

,

2021

)

Understanding people's perceptions and inferences about social robots and, thus, their responses toward them, constitutes one of the most pervasive research themes in the field of Human–Robot interaction today. We herein ...

Allan D

;

Bartneck, Christoph

(

2022

)

Boston Dynamics is the rock star of robotics. It recently featured in a beer commercial during the Super Bowl. How did a company that started as a military contractor become a novelty in beer commercials? Dwain Allan and ...

Bartneck, Christoph

(

2022

)

Autonomous Vehicles (AV) are the riskiest form of human-robot interaction. One the one hand they offer unparalleled improvements to the safety and comfort of drivers, passengers and other traffic participants. They also ...