The Potential for Augmented Reality to Bring Balance betweenthe Ease of Pedestrian Navigation and the Acquisition of Spatial Knowledge
(2014)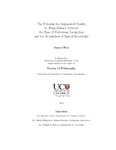 Type of Content
Theses / Dissertations
Thesis Discipline
Computer Science
Degree Name
Doctor of Philosophy
Publisher
University of Canterbury. Computer Science
Collections
Abstract
Being completely lost in an unfamiliar environment can be inconvenient, stressful and, at times, even dangerous. Maps are the traditional tools used for guidance but many people find maps difficult to use. In recent years, new tools like outdoor Augmented Reality (AR) have become available which allow virtual navigation cues to be directly overlaid on the real world, potentially overcoming the limitations of maps. However, it has been hypothesized that lower effort invested in processing navigation guidance may lead to diminished spatial knowledge (SK) thereby making users of such navigation tools far more vulnerable to getting lost should the tools fail for any reason. This thesis explores the research question of how AR and maps compare as tools for pedestrian navigation guidance as well as for SK acquisition and if there is a potential for AR tools be developed that would balance the two.
We present a series of studies to better understand the consequences of using AR in a pedestrian navigation tool. The first two studies compared time-on-task performance and user preferences for AR and Map navigation interfaces on an outdoor navigation task. The results were not aligned with expectations, which led us to build a controlled testing environment for comparing AR and map navigation. Using this simulated setting, our third study verified the assumption that AR can indeed result in more efficient navigation performance and it supported the hypothesis that this would come at the cost of weaker SK. In our fourth study, we used a dual task design to compare the relative cognitive resources required by map and AR interfaces. The quantitative data collected indicated that users could potentially accept additional workload designed to improve SK without incurring significantly more effort. Our fifth and final study explored an interface with additional AR cues that could potentially balance navigation guidance with SK acquisition.
The contributions of this thesis include insights into performance issues relating to AR, a classification of user types based on navigation tool usage behavior, a testbed for simulating perfect AR tracking in a virtual setting, objective measures for determining route knowledge, the capacity that pedestrian navigation tool users may have for performing additional tasks, and guidelines that would be helpful in the design of pedestrian navigation tools.
Keywords
augmented reality; pedestrian navigation; mental maps; cognitive maps; user interface; virtual reality; dual task; mobile; GPS; maps
Rights
Copyright James Wen
Related items
Showing items related by title, author, creator and subject.
Wen, J.

;

Helton, W.S.

;

Billinghurst, Mark

(

University of Canterbury. Human Interface Technology LaboratoryUniversity of Canterbury. Psychology

,

2013

)

The proliferation of pedestrian navigation tools has made it challenging for users to avoid being confused and overwhelmed by the choices. Studies comparing mobile pedestrian navigation aides have generally based conclusions ...

Delikostidis, I.

;

Van Elzakker, C.P.J.M.

(

University of Canterbury. Geography

,

2011

)

Delikostidis, I.

;

van Elzakker, C.P.J.M.

(

University of Canterbury. Geography

,

2009

)

Introduction Orientating and navigating with the use of mobile navigation systems involves interaction with different sources of information. Landmarks are very important into linking these sources. However, ...