Psychology, science and statistical significance testing
(1989)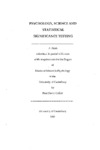 View/Open
Type of Content
Theses / Dissertations
Thesis Discipline
Psychology
Degree Name
Master of Science
Publisher
University of Canterbury
Language
English
Collections
Abstract
The statistical significance test is the dominant data-testing methodology in psychology, yet has many limitations which cast doubt on the suitability of the test for this position. The aim of this thesis is to outline why the significance test has attained its dominant status in psychology, and why the test remains in this position even after numerous harsh criticisms. To this end, there is a consideration of the nature of psychology as a scientific discipline and the socio-historical processes which have shaped this science. It is shown how these forces created the framework within which significance testing could be easily incorporated into psychology, due to the nature of the positivist-based philosophy underlying psychology and significance tests. Once the general conditions allowing the incorporation of significance testing into psychology have been given, there is an outline of the limits of significance testing, illustrating the inadequacies of this method. The factors responsible for the continued dominance of the method in light of its inadequacies are then outlined, and this shows that numerous powerful social and historical processes acting on psychology serve to encourage the retention of the test. Results of an informal survey of the data-analytic practices of New Zealand academic psychologists are included, which asked questions on such things as the main methods used and reasons ·for use of the methods. The results show that significance tests are the dominant method used by the respondents, and suggest a limited understanding, or ignorance, of the problems of significance tests amongst the respondents. Finally, alternative conceptions of science which attempt to overcome the problems of the dominant positivist approach are outlined. The possibilities for psychology and significance testing under these different conceptions are considered.
Keywords
Statistical hypothesis testing; Psychometrics
Rights
All Rights Reserved
Related items
Showing items related by title, author, creator and subject.
Greer, Michael John

(

University of Canterbury

,

1973

)

This study was basically an attempt to induce faking on the Brook Reaction Test (BRT). The test makers claim that the BRT is unfakable because of its projective basis which is coupled with an objective scoring system. To ...

Woods, Bradley Dean

(

University of Canterbury. Psychology

,

2011

)

Recent retrospectives of classic psychology articles by Meehl (1978) and Wachtel (1980), concerning problems with psychology's research paradigm, have been viewed by commentators, on the whole, as germane as when first ...

Pawlikowski, K.

;

McNickle, D.

;

Lee, J.-S. R.

(

University of Canterbury. Computer Science and Software Engineering

,

2012

)

Sequential analysis of output data during stochastic discrete-event simulation is a very effective practical way of controlling statistical errors of final simulation results. Such stochastic sequential simulation evolves ...