Feminism-Intersectional Feminism/Gender and Queer Theory: A Review on the Identity- Women in The Color Purple and Rudali
(2021)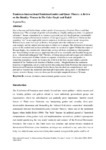 View/Open
Type of Content
Journal Article
Publisher
Project Monma Research Centre
ISSN
2463-2945
Abstract
Stevie Jackson and Jackie Jones in their article- Contemporary Feminist Theory said that Jackson says "The concepts of gender and sexuality as a highly ambiguous term, as a point of reference". Sexual orientation is an intricately planned, socially developed and questionably interrelated gadget utilized not in violation of our spending plan of Women's liberation that considers "sex" as an employable term to conjecture its deconstructive social viewpoints. Helene Cixous notes in Laugh of Medusa that people enter the emblematic request contrastingly and the subject position open to either sex is unique. This difference of entrance points of the marked and un-marked bodies results in variation of rights! Within the corpus of Human Rights, the considerable printed rules include all those entitlements which permits any 'human being' to sustain and appreciate the self as an acceptable and floatable being not as an 'othered and subjugated' life! The idea, of being recognized and categorized within the binarized construction of either inferior or superior in relation to caste and gender, is somewhat normalized under the framework of birth of the body in and within a specific standard of the 'brahminical structure of Indian society'. Marginalization has numerous branches of oppression, out of which I prefer discussing how from Feminism the journey top Intersectional Feminism including Gender theory has enriched our comprehension and percepts to visualize the numerous and multiple oppressions taking place. I will therefore discuss selective literary works to showcase the multiple marginalizations of Women.
Keywords
gender studies; intersectional; feminism; women; India
Rights
Creative Commons Attribution 4.0 International License.
Attribution 4.0 International
---
Except where otherwise noted, this item's license is described as Creative Commons Attribution 4.0 International License.
Related items
Showing items related by title, author, creator and subject.
Cooper, A.

;

Shaw, R.

;

Beres, M.

;

du Plessis, R.

;

Germon, J.

(

University of Canterbury. School of Social and Political SciencesUniversity of Canterbury. Sociology

,

2012

)

Panel discussion of Jennifer Germon's Gender: A Geneology of an Idea which includes critical analysis from Annabel Cooper, Rhonda Shaw, Melanie Beres and Rosemary Du Plessis. Jennifer Germon responds to the comments of the ...

It is common in international relations thought to view realism and pacifism as lying at opposite ends of a spectrum on the permissibility of war. Pacifism, from this point of view, is necessarily antithetically opposed ...

Wanhalla, Angela C.

(

University of Canterbury. Department of History

,

2001

)

The very general nature of eugenics allowed many diverse groups and individuals, that on the surface had little in common, to form alliances along eugenic lines. Social and moral reformers, politicians, scientists, academics ...