The influence of familiarity of stimulus presentation on judgements in a visual-tactual conflict situation
(1968)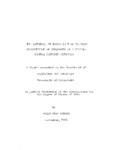 View/Open
Type of Content
Theses / Dissertations
Thesis Discipline
Psychology
Degree Name
Master of Arts
Publisher
University of Canterbury
Language
English
Collections
Abstract
Many recent experiments have shown that when the visual and tactual modalities are provided with conflicting information about the same stimulus object, the visual resolution dominates. This has been interpreted as implying that vision is inherently superior to touch in some hierarchy of sense modalities. The experimental work described in this thesis suggests an alternative explanation for some of these results in terms of the relative familiarity of the stimulus presentations to the respective modalities.
Keywords
Senses and sensation; Touch; Vision
Rights
All Rights Reserved
Related items
Showing items related by title, author, creator and subject.
Morgan, Abby Katherine

(

University of Canterbury. Psychology

,

2008

)

A rapid serial visual presentation task (RSVP) was combined with the 'inattention' paradigm (Mack & Rock, 1998) to investigate the effect of cognitive load on the detection of an unexpected stimulus. In addition, the ...

McGeorge, Colin

(

University of Canterbury. School of Educational Studies and Human Development

,

1971

)

Thung, Foong May

(

University of Canterbury

,

1982

)

An illusion is explored in which a constant tone, tuned to an arpeggio, is perceived to change in pitch in the absence of an actual frequency change. The effects of dichotic and monaural presentation, frequency range of ...