Changing the strength of implicit associations between males and science relative to females and science : a comparison of alternative methods
(2008)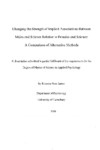 View/Open
Type of Content
Theses / Dissertations
Thesis Discipline
Psychology
Degree Name
Master of Science
Publisher
University of Canterbury
Language
English
Collections
Abstract
Two methods of changing the strength of implicit associations between males and science relative to females and science were evaluated in this study. Participants in each of two experimental conditions completed a manipulation in which they sorted photos of students into sciences and arts according to their stated major. One condition exposed participants to equal numbers of stereotypic and counter-stereotypic images, and the other exposed participants to predominantly counter-stereotypic images. Participants' bias was measured with an IAT pre­ manipulation, post-manipulation, and twenty-four hours later. No significant changes in IAT scores were observed from pre- to post-manipulation. Reasons for the results are discussed, including the nature of the stereotype and methodological considerations. Finally, future research directions and implications for career decisions are considered.
Keywords
Sex role; Stereotypes (Social psychology); Sex differences in education; Sex differences (Psychology); Choice (Psychology)--Sex differences
Rights
All Rights Reserved
Related items
Showing items related by title, author, creator and subject.
Love, Nicholas Charles

(

University of Canterbury

,

1999

)

Previous literature has shown that negative stereotypes are susceptible to change under the right conditions. The reported research extended the literature on stereotype modification by investigating the effects of stereotype ...

Lockington MR

;

Hughes RN

(

Ovid Technologies (Wolters Kluwer Health)

,

2020

)

Olanzapine can decrease anxiety and impair memory, but there is limited information about length of treatment or sex differences in its effectiveness. Therefore, effects of 21-24 and 41-45 days of treatment and sex differences ...

Maheno, Emma P.

(

University of Canterbury

,

2020

)

Despite increasing knowledge of the value of leisure and balance, work trends are consisting of a marked increase in time dedicated to work both inside and outside of the workplace. With technological advancements and ...