Health or appearance? : reasons for exercise, body image and self-esteem in males
(1996)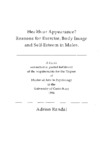 View/Open
Type of Content
Theses / Dissertations
Thesis Discipline
Psychology
Degree Name
Master of Arts
Publisher
University of Canterbury
Language
English
Collections
Abstract
Research on body image and its correlates has, until recently, focused predominantly upon women. Particularly lacking in the area of male body image research are studies that are qualitative in their approach. This research utilised methodological triangulation. The qualitative methodology, discourse analysis, examined the experiences of thirty mainly Paheka men, who were between the ages of 22 and 35, with regards to such issues as: the effect of exercise and sport involvement; eating behaviour/ and attitudes; body size/shape; the impact of the opinion of others. The results of the qualitative analysis were broadly consistent with previous research on the body image perceptions of men, and centered around: the definition of the ideal body; sites of body dissatisfaction; the relation of body image to selfesteem; the role of body image and exercise in male identity development in the wider social context. The quantitative component compared the reasons for exercise, self-esteem and body satisfaction in 80 men, 40 exercising and 40 sedentary. The quantitative results were in agreement of the qualitative results: a majority of men (80%) reported body dissatisfaction; self-esteem was positively correlated with body satisfaction; the most important reasons for exercise were health and attractiveness. The only significant finding being 'body focus' greater in exercising men than the non-exercising men. How this study fits into the growing volume of knowledge on male body image is considered, as are the implications of the research findings before directions for possible future research are presented.
Keywords
Body image; Self-esteem; Men--Health and hygiene; Men--Psychology
Rights
All Rights Reserved
Related items
Showing items related by title, author, creator and subject.
Fryer, S.

;

Dickson, T.

;

Draper, N.

;

Blackwell, G.

;

Hillier, S.

(

University of Canterbury. School of Sport & Physical Education

,

2013

)

Research suggests that lead climbing is both physiologically and psychologically more stressful than top rope climbing for intermediate performers. This observation may not be true for advanced climbers, who train regularly ...

Hodgson, C.I.

;

Draper, N.

;

McMorris, T.

;

Jones, G.

;

Fryer, S.

;

Coleman, I.

(

University of Canterbury. School of Sport & Physical Education

,

2009

)

Objectives: To examine how different safety rope protocols impact on subjective anxiety and self confidence levels and plasma cortisol concentrations and the relationship between subjective states and cortisol during rock ...

Mason, P.

;

Curl, A.

;

Kearns, A.

(

University of Canterbury. Geography

,

2016

)

Although relationships between participating in physical activity and positive mental health and wellbeing are well established, little is known about the relative contributions of the different domains of physical activity ...