The Global Entrepreneur
(2021)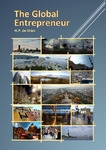 Type of Content
Authored Books
Collections
Rights
Creative Commons Attribution-NoDerivatives 4.0 International
---
Except where otherwise noted, this item's license is described as Creative Commons Attribution-NoDerivatives 4.0 International
Related items
Showing items related by title, author, creator and subject.
Morrish, Sussie Celna

(

University of Canterbury. Management

,

2008

)

Early entrepreneurship studies have often regarded entrepreneurs as a homogeneous group. More recently, scholars have recognised that entrepreneurs have different ownership propensity. Portfolio entrepreneurs, a sub-type ...

Barnes, Natasha Jane

(

University of Canterbury. Social and Political Sciences

,

2010

)

The New Agenda Coalition (NAC) has been widely noted for its contribution to 2000 Review Conference of the Parties to the Treaty on the Non-Proliferation of Nuclear Weapons. The NAC played a bridge-building role to ...

Ranabahu, N.

;

Barrett M

(

Springer Verlag

,

2019

)

The paper reports on a study testing whether effectuation (means-driven thinking) and causation (predictive thinking) influence the use of deliberate practice during business start-up by microfinance borrowers ('micro-en ...