Review of Adrian Johnson, Prolegomena to Any Future Materialism Volume 2: A Weak Nature Alone (Northwestern UP, 2019)
(2021)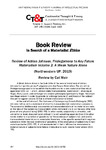 View/Open
Type of Content
Journal Article
Publisher
University of Canterbury
ISSN
2463-333X
Collections
Abstract
A Weak Nature Alone is the (sub-)title of the second instalment of Adrian Johnston's tripartite series Prolegomena to Any Future Materialism. The aim of the Prolegomena project is to 'establish the foundations for a new materialist theoretical apparatus' (2013 xi) – which Johnson dubs 'transcendental materialism' – drawing on Hegel, Marx, Lacan, and contemporary analytic philosophy (particularly Anglo-American neo-Hegelianism) in order to provide an ontology (volume 2) and theory of the subject (the yet-to-appear volume 3) that is atheist and science-oriented. At the end of Volume 1, The Outcome of Contemporary French Philosophy (2013), Johnston left us with a statement of what his transcendent(al) materialism consists in. The somewhat (deliberately) unconventional transcendentalism of his materialism rests on the idea of 'the subject as transcendent-while-immanent vis-à-vis the sole, Otherless plane of lone physical being' (2013: 178). In other words, subjectivity is of matter, and cannot (or at least, does not) exist without it, is not something separate from it (in other words matter is a condition of possibility for the existence of subjectivity). Johnston's transcendental materialism is materialist, therefore, in the specific sense that it requires subjects to think the real conditions of possibility of the emergence of subjectivity in non-conscious matter (2013: 179). It is transcendental in that it 'affirms the immanence to material nature of subjects nonetheless irreducible to such natural materialities' (2013: 178).
Rights
This work is licensed under a Creative Commons Attribution 4.0 International License.
Except where otherwise noted, this item's license is described as This work is licensed under a Creative Commons Attribution 4.0 International License.
Related items
Showing items related by title, author, creator and subject.
Gonsalves, Rodrigo

(

University of Canterbury

,

2018

)

To claim that the field of Philosophy encompasses different lines of thought is nothing but an understatement. Sometimes philosophy can be seen as the ultimate clash of thought boxed into a field. We could name pairs and ...

Tariq S

;

Scott AN

;

Mackechnie JR

;

Shah V

(

MDPI AG

,

2020

)

© 2020 by the authors. Licensee MDPI, Basel, Switzerland. The transport characteristics of waste glass powder incorporated self-compacting concrete (SCC) for a number of different durability indicators are reported in this ...

Wallace, Chloe Suzanne

(

University of Canterbury

,

2017

)

This thesis aims to examine the mediating role of product type (i.e., product-luxury perceptions) on consumer response to online reviews and the subsequent effect on purchase behaviour. Specifically, this thesis explicates ...