Ecological Sin: Novelty or Necessity?
(2021)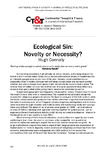 View/Open
Type of Content
Journal Article
Publisher
University of Canterbury
ISSN
2463-333X
Collections
Abstract
Surrounding mountains, high altitude, an active volcano, and a steep drop at the end of a short runway make flying into La Aurora International Airport in Guatemala City an interesting experience at any time of the year. Densely constructed barrios on impossibly sheer hillsides interspersed with deep ravines make one seriously ponder whether and where enough level space might realistically be found to land a plane. The familiar thud of rubber on concrete and the roar of engine-assisted brakes effectively answers that query albeit while giving rise to several not unrelated concerns.
Rights
This work is licensed under a Creative Commons Attribution 4.0 International License.
Except where otherwise noted, this item's license is described as This work is licensed under a Creative Commons Attribution 4.0 International License.
Related items
Showing items related by title, author, creator and subject.
In light of the feminist response to the presidential victory of Donald Trump, this piece draws upon the work of critical left thinkers such as Alain Badiou, Nancy Fraser and Fredric Jameson in order to advocate a future ...

Grimshaw, Mike

(

University of Canterbury

,

2018

)

First, some questions What might it mean to interpassively respond to Interpassivity? Is not this collection of essays in this special issue itself a potentially doubly interpassive event (that is, interpassivity ...

Beaumont, Stefan

;

Chilton, Mike

;

Godson, Lloyd

;

Wright, Neville

;

van der Beek, Olaf

(

2004

)

Controversy surrounds the United State's National Science Foundation's (NSF) current construction Of a route between McMurdo Station, Ross Island, and Amunsden-Scott South Pole Station. Attitudes to the Route cover a wide ...