Ecological Sin: Novelty or Necessity?
(2021)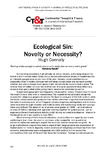 View/Open
Type of Content
Journal Article
Publisher
University of Canterbury
ISSN
2463-333X
Abstract
Surrounding mountains, high altitude, an active volcano, and a steep drop at the end of a short runway make flying into La Aurora International Airport in Guatemala City an interesting experience at any time of the year. Densely constructed barrios on impossibly sheer hillsides interspersed with deep ravines make one seriously ponder whether and where enough level space might realistically be found to land a plane. The familiar thud of rubber on concrete and the roar of engine-assisted brakes effectively answers that query albeit while giving rise to several not unrelated concerns.
Rights
This work is licensed under a Creative Commons Attribution 4.0 International License.