Sexuality, Health and Hygiene in Colonial India (1860-1930)
(2020)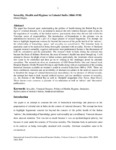 View/Open
Type of Content
Journal Article
Publisher
Project Monma Research Centre
ISSN
2463-2945
Abstract
The paper has focused upon understanding the politics of health during the British Raj in the light of venereal diseases. It is an attempt to analyze the role venereal diseases came to play in the regulation of sexuality of the Indian natives (particularly those that did not fall within the Victorian norms of respectability). The introduction of biomedicine in the colonies was an administrative necessity and a part of a larger project of cultural hegemony. The attempt has been to highlight hegemonic concern far beyond the concern of the public health of the 'natives'; the relationship of knowledge, power and sexuality (as surveillance). The feminine body in particular came to be analyzed as being thoroughly saturated with sexuality. Review of literature suggests women's sexuality, eugenics and racism were predominant themes in the discussions of both the colonialists and the nationalists. The women's body in India during the colonial rule became the focus of debates. However, the issue of women's health was never brought up. I will attempt to discuss the plight of native Indian women, particularly, the prostitutes whose sexuality first came to be controlled and then go on to looking at the challenges posed by alternate sexualities. The research involves an examination of GOI Home-Public files and Annual Lock Hospital Reports (North-Western Provinces and Oudh) along with an examination of the existing historical literature available on women's health in colonial India from 1860 to 1930. There has been a deliberate omission and an invisibility of alternate sexualities in the archival sources (for it disturbed the image of colonial heterosexual masculinity). In the absence of official records, the attempt has been to look beyond archival sources; and use unofficial cultures of sexuality, i.e., the fictions of the British Raj as well as 'footpath' magazines (Nar Naree, Hum Dono). These themes were common in journals of sex-education as well as 'advice' and 'discussion' publications.
Rights
Creative Commons Attribution 4.0 International License.
Except where otherwise noted, this item's license is described as Creative Commons Attribution 4.0 International License.
Related items
Showing items related by title, author, creator and subject.
Richardson, John Patrick

(

University of Canterbury

,

2017

)

The history of sanitation is not generally considered a glamourous topic. It is far more common to see larger works relating to war, within which sanitation may be present as a footnote to explain those deaths not caused ...

Dombroski, K.F.

(

University of Canterbury. Geography

,

2015

)

Postdevelopment thinkers and writers have critiqued development discourse for its role in perpetuating inequality. In water, hygiene and sanitation (WASH) literature and interventions, the discourse used perpetuates ...

Veerasamy A

;

Gage J

;

Kirk, RC

(

2017

)

Introduction: Children and young people in India have a high prevalence of dental decay. As part of a broader epidemiological study we interviewed 10 head teachers to understand the status of, and challenges to, inclusion ...