Ka Tū te Whare, Ka Ora: the constructed and constructive identities of the Māori adoptee. Identity construction in the context of Māori adoptees' lived experiences
(2020)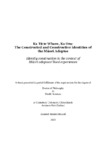 Type of Content
Theses / Dissertations
Thesis Discipline
Health Sciences
Degree Name
Doctor of Philosophy
Publisher
University of Canterbury
Language
English
Collections
Authors
Ahuriri-Driscoll, Annabel
show all
Abstract
The question "who am I?" is an enduring one which invokes a variety of responses depending on a person's social and cultural context. Such a question suggests that there might be a singular, plausible 'answer'. It also conveys the need to know a 'self' in relation to others, and to have an 'identity'. As a key preoccupation in contemporary society, identity is a "blurred but indispensable concept" (Tilly 1996, 7), and a central focus of theorising and research (Howard 2000, 367). Its varied use reflects and generates a diversity of meanings (Côté 2006, 7; Wetherell 2010, 3), however there are concerns about the distance between academic theorising and 'lay' conceptualisations of identity (Brubaker and Cooper 2000, 11).
Identity has assumed a central focus in adoption research, and has come to be understood as one of the primary concerns for adoptees (Grotevant 1997, 7). A transition from identity viewed as an internally-generated, continuous, stable and coherent property, to a socially produced, fragmented, dynamic, contradictory and multi-layered construction (Wetherell 2010, 3-4; Woodward 1997b, 11, 13) is evident across the field of adoption studies. However, rather than provide blanket support or challenge to the opposing poles of either extreme (individual, agential, objective and essentialist versus social, structural, subjective and relative), the experiences of transracial adoptees illuminate the 'middle ground' between (Patton 2000, 2, 71, 79; Yngvesson and Mahoney 2000, 83).
In Aotearoa New Zealand research relating to transracial adoptees is limited, despite their significant representation within the approximately 80,000 children legally adopted between 1955 and 1985. This inquiry combined critical realism, kaupapa Māori and hermeneutic phenomenology to address two research questions. First, what are Māori adoptees' lived experiences of being adopted and being Māori? Second, how does 'identity' feature in Māori adoptees' understandings and interpretations of these experiences? In-depth interviews were conducted with 15 Māori men and women adopted in closed stranger adoptions between 1960 and 1976. Interview narratives revealed the discursive and extra-discursive dimensions of 'being-adopted-and-Māori', characterised by two central concerns of 'realness' and 'difference' and underpinned by a meta-theme of loss. In a context of dominant, biocentric discourses of family, personhood, race and culture, identity was experienced as paradoxically and simultaneously essential and constructed, with participants in search of a 'comfortable' position not always able to be realised in their 'becoming bio-genealogical'. This study demonstrated Māori adoptee identities as intersectional ontological-level projects that both enrich and unsettle narrow conceptions of ethnic, cultural and adoptive identity.
Rights
All Rights Reserved