Divaricate plants resist ungulate browsing in a forest remnant on the North Island of New Zealand
(2014)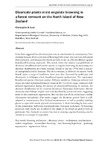 View/Open
Type of Content
Journal Article
Publisher
New Zealand Natural Sciences
ISSN
0113 - 7492
Collections
Rights
CC-BY 4.0 International
Related items
Showing items related by title, author, creator and subject.
Hutchison, Melissa Alice Sarah

(

University of Canterbury. School of Biological Sciences

,

2009

)

Habitat fragmentation and biological invasions are widely considered to be the most significant threats to global biodiversity, and synergistic interactions between these processes have the potential to cause even greater ...

Payn, Timothy William

(

University of Canterbury. Forestry

,

1991

)

This thesis addressed the problem of the widespread occurrence of magnesium deficiency in Pinus. radiata planted on pumice soils in the central North Island of New Zealand, the increased severity of the deficiency where ...

Reay, Stephen David

(

University of Canterbury. Forestry

,

2000

)

This study examined aspects of the pest status and ecology of Hylastes ater in Pinus radiata reforestation sites. Aspects of the flight activity, larval survival and adult emergence from stumps by Hylastes ater and ...