Synthesis and characterisation of polyurethane made from pyrolysis bio-oil of pine wood
(2020)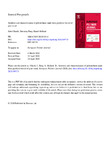 View/Open
Type of Content
Journal Article
Publisher
Elsevier BV
ISSN
0014-3057
Language
English
Collections
Authors
Gharib, Jaber,
Pang, Shusheng,
Holland, Daniel
show all
Abstract
This paper investigates the manufacture of polyurethane from pyrolysis bio-oil produced from radiata pine wood. Liquid-liquid extraction was used to separate bio-oil into fractions. These fractions were reacted with methylene diphenyl diisocyanate (MDI) to produce polyurethane. For comparison, a series of polyurethanes were prepared with castor oil in a similar manner. Among the various fractions of the bio-oil, the water-insoluble fraction (often referred to as pyrolytic lignin) was found to be the most appropriate component to produce polyurethane as it is a significant fraction of bio-oil and has a high hydroxyl number, hence, is able to produce a robust film. It was found that gradual addition of the polyol to MDI helped produce a more flexible and stable polyurethane film. Water absorption of bio-oil based polyurethane was found to be higher than that of castor oil based polyurethane. However, the diffusion coefficient of water in the bio-oil derived polyurethane was lower than in castor oil-derived polyurethane. These results suggest bio-oil derived polymers may be suitable for use as protective coatings.
Citation
Gharib J, Pang S, Holland D (2020). Synthesis and characterisation of polyurethane made from pyrolysis bio-oil of pine wood. European Polymer Journal. 109725-109725.
This citation is automatically generated and may be unreliable. Use as a guide only.
ANZSRC Fields of Research
09 - Engineering::0904 - Chemical Engineering::090499 - Chemical Engineering not elsewhere classified
09 - Engineering::0912 - Materials Engineering::091209 - Polymers and Plastics
07 - Agricultural and Veterinary Sciences::0705 - Forestry Sciences::070502 - Forestry Biomass and Bioproducts
Rights
All rights reserved unless otherwise stated