Applying the Thorne-Kishino-Felsenstein model sequence evolution on a star-shaped tree
(2001)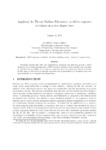 View/Open
Type of Content
Journal Article
Publisher
University of Canterbury. Mathematics and Statistics.
Collections
Abstract
Stochastic models that allow site substitutions, insertions and deletions provide a useful framework for a statistical approach to DNA sequence evolution. Such a model, and recursions to calculate the probability of evolving two sequences, have been known for almost a decade. In this paper we show how the pairwise recursions can be generalised to a 3-sequence tree, and more generally to a r-sequence star-shaped tree.
Citation
Steel, M., Hein, J. (2001) Applying the Thorne-Kishino-Felsenstein model sequence evolution on a star-shaped tree. Applied Mathematics Letters, 14, pp. 679--84.
This citation is automatically generated and may be unreliable. Use as a guide only.
Keywords
DNA sequence evolution; insertion-deletion model; dynamic programming