Utopian Desire and the Problems of Posthuman Affect: Philip K. Dick and Iain (M.) Banks
(2014)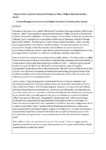 View/Open
Publisher
University of Canterbury. School of Humanities and Creative Arts
University of Canterbury. English
Collections
Abstract
This paper will consider the so-called "affective turn" in relation to the representation of the human body and "other" in two twentieth-century science fiction texts: Philip K. Dick's Do Androids Dream of Electric Sheep and Iain (M) Banks' The Player of Games. Science fiction itself may be considered an "affective" genre, engaged as it is in speculation and the ensuing "pleasures of the text" through genre-fiction fandom -- functioning as an "oneiric" fantasy domain for readers. Such a view may have marginalised the work of authors like Dick and Banks. The speculative domain of "serious" science fiction, though, is often the vehicle for critical reflection on current societies and possibilities, allowing critics such as Fredric Jameson and Darko Suvin to see utopian literature to be convergent with science fiction in its affective defamilisation-refamiliarisation tactics. Looking at Dick's Do Androids Dream of Electric Sheep (1968) and Banks' The Player of Games (1988), I examine their concern with posthuman affect, testing the limits of utopian desire and humanity by means of examining the body and its responses in relation to "other". I will be using Deleuze and Guattari's concepts of "affect" and "affected" to examine both the tactics of "cognitive estrangement" used by these writers (after Suvin) and the "affected" subjects within the texts; I also draw on Fredric Jameson's conceptions of utopian desire and nostalgia alongside theorists of the posthuman condition such as Francis Fukuyama, Donna Haraway, and Sherryl Vint to analyse the different approaches to the embodied "human". Examining Dick's largely dystopian text, I will consider the central focus on "empathy" as an identifying mechanism for the human, and the putative role of animals and androids as affective others in this identification. Dick's flawed protagonist, Deckard, is important as the self-reflexive arbitrator of the distinctions between human, sub-human and artificial other, coming to question these distinctions and voice the problems of human schizoid breaks that Dick theorises as necessary for such identification, especially apparent in the presence of arbitrary, simulated or mediated "affect" mechanisms in the novel. Viewing Banks' critical utopian text, I will discuss the utopic, posthuman body, augmented and supplemented by technologies present in the protagonist's hedonistic, utopian society: The Culture. Against this, I will discuss the novel's engagement with the nostalgic appeals of the "organic" primitive: the embodied appeals of barbarism, violence and sensual agency that the protagonist "player", Gurgeh, ultimately rejects. This rejection, however, is complicated by Gurgeh being "played" by his Culture: becoming the embodied proxy in an inter-civilisation clash, an organic avatar in a war on the Empire of Azad sublimated to the Azad game board. Dick and Banks' texts, then, are forerunners to the "affective turn" critical re-engagement with appeals to embodiment; yet they also speculate on problems of the scope or authenticity of bodily-situated affect in a posthuman context.
Citation
Bedggood, D. (2014) Utopian Desire and the Problems of Posthuman Affect: Philip K. Dick and Iain (M.) Banks. Melbourne, Australia: Literature and Affect: Annual Conference of the Australiasian Australasian Association of Literature / ARC Centre of Excellence for the History of Emotions, 2-4 Jul 2014.
This citation is automatically generated and may be unreliable. Use as a guide only.
ANZSRC Fields of Research
47 - Language, communication and culture::4705 - Literary studies::470504 - British and Irish literature
47 - Language, communication and culture::4705 - Literary studies::470526 - Other literatures in English
Related items
Showing items related by title, author, creator and subject.
Roberts, P.

(

University of Canterbury. School of Educational Studies and Human Development

,

2008

)

Both literature and philosophy, as genres of writing, can enable us to address important ontological, epistemological and ethical questions. One author who makes it possible for readers to bridge these two genres is Albert ...

Roberts, P.

(

University of Canterbury. School of Educational Studies and Human Development

,

2008

)

The Journey to the East is Hermann Hesse's most deeply personal book. This enigmatic novel, with its deceptively simple narrative structure, lends itself well to multiple interpretations. To date, however, little attention ...

Cunningham, U.

;

King, J.

(

University of Canterbury. New Zealand Institute of Language, Brain & BehaviourUniversity of Canterbury. School of Teacher EducationUniversity of Canterbury. Aotahi School of Maori and Indigenous Studies

,

2015

)