The Composition of Health and Safety in Employment Sentences in New Zealand: An Empirical Analysis
(2013)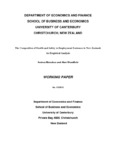 View/Open
Type of Content
Discussion / Working Papers
Publisher
University of Canterbury
University of Canterbury. Department of Economics and Finance
Collections
Authors
Menclova, A.,
Woodfield, A.
show all
Abstract
Sentences for employers convicted of offences under NZ health and safety in employment law have been subject to constraints from two main sources (i) legislation; and (ii) guideline judgment cases. This paper analyses the determinants of HSE offences over the period following the introduction of the De Spa Guidelines in March 1994 to the Hanham & Philp Guideline judgment in December 2008, and also splits the period to account for the implementation of the Sentencing Act 2002 and the HSE Amendment Act 2002. Among the De Spa Guidelines we find that the level of harm in particular, and employer culpability are not only consistently represented among significant determinants of HSE sentences in respect of fines and total liability faced by employers, but also emerge as important determinants of awards to accident victims. These results hold at the single s 6 charge level and at the case level, as well as for alternative specifications of our estimating model. Considering the two periods separately, we find that estimated coefficients are considerably larger in magnitude for the latter period. Results for the remaining De Spa factors and case-specific facts are less robust, although a defendant?s financial limitations provides a consistent and sizable fine discount, and several others also regularly appear as systematic HSE sentencing determinants.
Citation
Menclova, A., Woodfield, A. (2013) The Composition of Health and Safety in Employment Sentences in New Zealand: An Empirical Analysis..
This citation is automatically generated and may be unreliable. Use as a guide only.
Keywords
health & safety offences; Judicial guidelines; sentencing determinants.
ANZSRC Fields of Research
18 - Law and Legal Studies::1801 - Law::180118 - Labour Law