Modelling stormwater management options for enhancing water quality of urban streams
(2014)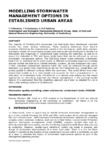 View/Open
Type of Content
Conference Contributions - Published
Publisher
University of Canterbury. Civil and Natural Resources Engineering
Collections
Authors
Charters, F.,
Cochrane, T.A.,
O'Sullivan, A.
show all
Abstract
The majority of Christchurch's stormwater has historically been discharged untreated directly into urban surface waterways. These receiving waterways have become adversely affected by the contaminants carried in the stormwater, particularly sediment and heavy metals. An event-based contaminant load model was developed to identify the distribution and magnitude of contaminant loads entering the waterway, as well as to assess the reduction in TSS and heavy metal loads that can be achieved by various stormwater management options. The GIS-Excel based model estimates contaminant loads from an individual storm event based on different contributing impervious surfaces and key rainfall characteristics (rainfall intensity, duration, pH and antecedent dry days). It then calculates contaminant reduction loads that could be achieved through source reduction (e.g. green roofs, repainting) as well as from treatment (e.g. raingardens, wet ponds) applied to different surfaces within the catchment. This model differs from other annual load models as it is event-based and accounts for storm characteristics in its calculation of contaminant loads. Christchurch is a valuable case setting due the unique opportunity for retrofitting improved stormwater management in the post-earthquake rebuild. It is anticipated that this modelling approach could later be adapted for use in other urban settings outside of Christchurch.
Citation
Charters, F., Cochrane, T.A., O'Sullivan, A. (2014) Modelling stormwater management options for enhancing water quality of urban streams. Christchurch, New Zealand: 9th South Pacific Stormwater Conference, 14-16 May 2014. Proceedings, 10pp.
This citation is automatically generated and may be unreliable. Use as a guide only.
Keywords
Stormwater quality modelling; urban catchments; contaminant loads; MEDUSA
ANZSRC Fields of Research
04 - Earth Sciences::0406 - Physical Geography and Environmental Geoscience::040608 - Surfacewater Hydrology
09 - Engineering::0905 - Civil Engineering::090508 - Water Quality Engineering