Viable inhomogeneous model universe without dark energy from primordial inflation
(2005)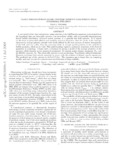 View/Open
Type of Content
Discussion / Working Papers
Publisher
E-print gr-qc/0503099
University of Canterbury. Physics and Astronomy
Collections
Abstract
A new model of the observed universe, using solutions to the full Einstein equations, is developed from the hypothesis that our observable universe is an underdense bubble, with an internally inhomogeneous fractal bubble distribution of bound matter systems, in a spatially flat bulk universe. It is argued on the basis of primordial inflation and resulting structure formation, that the clocks of the isotropic observers in average galaxies coincide with clocks defined by the true surfaces of matter homogeneity of the bulk universe, rather than the comoving clocks at average spatial positions in the underdense bubble geometry, which are in voids. This understanding requires a systematic reanalysis of all observed quantities in cosmology. I begin such a reanalysis by giving a model of the average geometry of the universe, which depends on two measured parameters: the present matter density parameter, Ωm, and the Hubble constant, H₀. The observable universe is not accelerating. Nonetheless, inferred luminosity distances are larger than naïvely expected, in accord with the evidence of distant type Ia supernovae. The predicted age of the universe is 15.3 ± 0.7 Gyr. The expansion age is larger than in competing models, and may account for observed structure formation at large redshifts.
Citation
Wiltshire, D. L. (2005). Viable inhomogeneous model universe without dark energy from primordial inflation. arXiv:gr-qc/0503099. Retrieved from http://arxiv.org/abs/gr-qc/0503099
This citation is automatically generated and may be unreliable. Use as a guide only.
Keywords
cosmology: theory; cosmology: large-scale structure of universe; cosmological parameters; cosmology: early universe
ANZSRC Fields of Research
02 - Physical Sciences::0201 - Astronomical and Space Sciences::020103 - Cosmology and Extragalactic Astronomy
02 - Physical Sciences::0201 - Astronomical and Space Sciences::020105 - General Relativity and Gravitational Waves