Robust Ranking of Multivariate GARCH Models by Problem Dimension
(2012)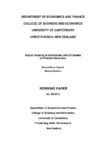 View/Open
Type of Content
Discussion / Working Papers
Publisher
University of Canterbury. Department of Economics and Finance
Abstract
During the last 15 years, several Multivariate GARCH (MGARCH) models have appeared in the literature. Recent research has begun to examine MGARCH specifications in terms of their out-of-sample forecasting performance. We provide an empirical comparison of alternative MGARCH models, namely BEKK, DCC, Corrected DCC (cDCC), CCC, OGARCH Exponentially Weighted Moving Average, and covariance shrinking, using historical data for 89 US equities. We contribute to the literature in several directions. First, we consider a wide range of models, including the recent cDCC and covariance shrinking models. Second, we use a range of tests and approaches for direct and indirect model comparison, including the Model Confidence Set. Third, we examine how the robust model rankings are influenced by the cross-sectional dimension of the problem.
Citation
Caporin, M., McAleer, M. (2012) Robust Ranking of Multivariate GARCH Models by Problem Dimension..
This citation is automatically generated and may be unreliable. Use as a guide only.
Keywords
Covariance forecasting; model confidence set; robust model ranking; MGARCH; robust model comparison
ANZSRC Fields of Research
38 - Economics::3803 - Economic theory::380303 - Mathematical economics
38 - Economics::3801 - Applied economics::380107 - Financial economics
Related items
Showing items related by title, author, creator and subject.
Caporin, M.

;

McAleer, M.

(

College of Business and EconomicsUniversity of Canterbury. Department of Economics and Finance

,

2011

)

In the last 15 years, several Multivariate GARCH (MGARCH) models have appeared in the literature. Recent research has begun to examine MGARCH specifications in terms of their out-of-sample forecasting performance. In this ...

Rea, A.

;

Rea, W.

(

University of Canterbury. Department of Economics and FinanceUniversity of Canterbury. Mathematics and Statistics

,

2014

)

This paper presents a novel application of Neighbor-Net, a clustering algorithm developed for constructing a phylogenetic network in the field of evolutionary biology, to visualizing a correlation matrix. We apply ...

Boyle, G.

(

University of Canterbury. Department of Economics and Finance

,

2010

)