Local Tchebichef Moments for Texture Analysis
(2014)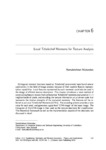 View/Open
Type of Content
Chapters
Publisher
Science Gate Publishing
University of Canterbury. Computer Science and Software Engineering
ISBN
978-618-81418-0-3
Collections
Editors
Papakostas, G.A.
Abstract
Orthogonal moment functions based on Tchebichef polynomials have found several applications in the field of image analysis because of their superior feature representation capabilities. Local features represented by such moments could also be used in the design of efficient texture descriptors. This chapter introduces a novel method of constructing feature vectors from orthonormal Tchebichef moments evaluated on 5x5 neighborhoods of pixels, and encoding the texture information as a Lehmer code that represents the relative strengths of the evaluated moments. The features will be referred to as Local Tchebichef Moments (LTMs). The encoding scheme provides a byte value for each pixel, and generates a gray-level "LTM-image" of the input image. The histogram of the LTM-image is then used as the texture descriptor for classification. The theoretical framework as well as the implementation aspects of the descriptor are discussed in detail.
Citation
Mukundan, R. (2014) Local Tchebichef Moments for Texture Analysis. In G.A. Papakostas (Ed.). Moments and Moment Invariants - Theory and Applications (pp. 127-142). Thrace, Greece: Science Gate Publishing.
This citation is automatically generated and may be unreliable. Use as a guide only.
Keywords
image analysis and texture classification; texture analysis; texture feature descriptors; Tchebichef moments; local moments; image classification
ANZSRC Fields of Research
46 - Information and computing sciences::4603 - Computer vision and multimedia computation::460306 - Image processing
08 - Information and Computing Sciences::0801 - Artificial Intelligence and Image Processing::080109 - Pattern Recognition and Data Mining
Related items
Showing items related by title, author, creator and subject.
Bainbridge, D.

(

University of Canterbury

,

1995

)

Although it has been less than a year since the last progress report, work has reached a natural 'breakpoint' offering an opportunity to describe what has been accomplished as well as gathering thoughts on the future. For ...

Singh P

;

Mukundan R

;

De Ryke R

(

2017

)

Speckle noise reduction is an important area of research in the field of ultrasound image processing. Several algorithms for speckle noise characterization and analysis have been recently proposed in the area. Synthetic ...

Abstract: An aspect of the invention provides a texture mapping system configured to map texture to a three-dimensional model. The system includes a video renderer configured to render captured image data on a display to ...