Translocation of threatened New Zealand falcons to vineyards increases nest attendance, brooding and feeding rates
(2012)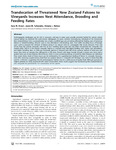 View/Open
Type of Content
Journal Articles
Publisher
University of Canterbury. Biological Sciences
Collections
Authors
Kross, S.M.,
Tylianakis, J.M.,
Nelson, X.J.
show all
Abstract
Anthropogenic landscapes can be rich in resources, and may in some cases provide potential habitat for species whose natural habitat has declined. We used remote videography to assess whether reintroducing individuals of the threatened New Zealand falcon Falco novaeseelandiae into a highly modified agricultural habitat affected the feeding rates of breeding falcons or related breeding behavior such as nest attendance and brooding rates. Over 2,800 recording hours of footage were used to compare the behavior of falcons living in six natural nests (in unmanaged, hilly terrain between 4 km and 20 km from the nearest vineyard), with that of four breeding falcon pairs that had been transported into vineyards and nested within 500 m of the nearest vineyard. Falcons in vineyard nests had higher feeding rates, higher nest attendance, and higher brooding rates. As chick age increased, parents in vineyard nests fed chicks a greater amount of total prey and larger prey items on average than did parents in hill nests. Parents with larger broods brought in larger prey items and a greater total sum of prey biomass. Nevertheless, chicks in nests containing siblings received less daily biomass per individual than single chicks. Some of these results can be attributed to the supplementary feeding of falcons in vineyards. However, even after removing supplementary food from our analysis, falcons in vineyards still fed larger prey items to chicks than did parents in hill nests, suggesting that the anthropogenic habitat may be a viable source of quality food. Although agricultural regions globally are rarely associated with raptor conservation, these results suggest that translocating New Zealand falcons into vineyards has potential for the conservation of this species.
Citation
Kross, S.M., Tylianakis, J.M., Nelson, X.J. (2012) Translocation of threatened New Zealand falcons to vineyards increases nest attendance, brooding and feeding rates. PLoS ONE, 7(6), pp. e38679.
This citation is automatically generated and may be unreliable. Use as a guide only.
ANZSRC Fields of Research
06 - Biological Sciences::0608 - Zoology::060801 - Animal Behaviour
06 - Biological Sciences::0608 - Zoology::060803 - Animal Developmental and Reproductive Biology