School reports : university fiction in the masculine tradition of New Zealand literature.
(2011)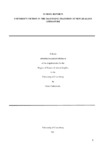 Type of Content
Theses / Dissertations
Thesis Discipline
English
Degree Name
Master of Arts
Publisher
University of Canterbury. English
Collections
Abstract
This thesis will investigate the fictional discourse that has developed around academia and how this discourse has manifested itself in the New Zealand literary tradition, primarily in the works of M.K. Joseph, Dan Davin and James K. Baxter. These three writers have been selected because of their status within Kai Jensen's conception of "a literary tradition of excitement about masculinity"; in other words, the masculine tradition in New Zealand literature which provides fictional representations of factual events and tensions. This literary approach is also utilised in the tradition of British university fiction, in which the behaviour of students and faculty are often deliberately exaggerated in order to provide a representation of campus life that captures the essence of the reality without being wholly factual. The fact that these three writers attempt, consciously or unconsciously, to combine the two traditions is a matter of great literary interest: Joseph's A Pound of Saffron (1962) appropriates tropes of the British university novel while extending them to include concerns specific to New Zealand; Davin's Cliffs of Fall (1945), Not Here, Not Now (1970) and Brides of Price (1972) attempt to blend traditions of university fiction with the masculine realist tradition in New Zealand literature, though, as we will see, with limited success; Baxter's station as the maternal grandson of a noted professor allows him to criticise the elitist New Zealand university system in Horse (1985) from a unique position, for he was more sympathetic towards what he considered the working class "peasant wisdom" of his father, Archie, than the "professorial knowledge" of Archie's father-in-law. These three authors have been chosen also because of the way they explore attitudes towards universities amongst mainstream New Zealand society in their writing, for while most novels in the British tradition demonstrate little tension between those within the university walls and those without, in New Zealand fiction the tension is palpable. The motivations for this tension will also be explored in due course, but before we can grapple with how the tradition of British university fiction has impacted New Zealand literature, we must first examine the tradition itself.
Keywords
New Zealand; New Zealand literature; masculine; masculine tradition; intellectualism; anti-intellectualism; post-colonial literature; university fiction; M.K. Joseph; Dan Davin; James K. Baxter; Oxbridge; Oxford; Cambridge
Rights
Copyright Grant Cattermole