Acoustic illuminations: recorded space as soundscape composition
(2014)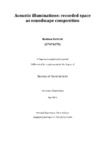 Type of Content
Theses / Dissertations
Degree Name
Doctor of Musical Arts
Publisher
University of Canterbury. Music
Collections
Abstract
Following López, I claim that although any sound can be music, not all sound is music. Soundscape composition begins when a soundscape prompts the composer to engage musically with it. How this engagement manifests is influenced by composers' differing philosophical, practical and aesthetic positions. These are explained in Part I and provide the basis to my analysis of soundscape composition. Part II focuses on how my soundscape composition manifests (in ways prescriptive, spontaneous and retrospective), how it is explored both temporally and spatially and how the listening subject and the acoustic agent are inextricably linked. Within the developmental phases of context, field work and editing, my first compositional approach, through which my works can be identified, is defined in three ways: as hyper-real (in which particular acoustic elements are exaggerated, distorted or re-combined); as soundwalks (in which the microphone is moved through space) and as improvisational intervention (using musical instruments to acoustically illuminate the space being recorded). My second compositional approach presents the perception of sound as micro, macro and ambient. My third approach, which is at the heart of all my soundscape composition, uses the microphone as a musical instrument in its own right. In all approaches, serendipity and my own acoustic presence are embraced. Diffusion of my work is intended to engage the listener in creative contemplation of soundscapes, any other perceived agendas such as documentation being incidental.
Keywords
soundscape; composition; improvisation; field recording; New Zealand; Sri Lanka; Australia; acousmatic
Rights
Copyright Reuben George Derrick
Related items
Showing items related by title, author, creator and subject.
Buchanan, G.

;

Wright, D.

;

Hann, C.

;

Bryson, H.

;

Snowdon, M.

;

Rao, A.

;

Slee, A.

;

Sültrop, H.P.

;

Jochle-Rings, B.

;

Barker, Z.

;

McKinstry ., A.

;

Meffan ., C.

;

Xian, G.

;

Mitchell, R.

;

Chen, X.Q.

(

University of Canterbury. Electrical and Computer EngineeringUniversity of Canterbury. Mechanical Engineering

,

2015

)

The University of Canterbury has developed a rocket research group, UC Rocketry, which recently broke the world altitude record for an I-class motor (impulse of 320–640 Ns) and has run a rocketry course for the first ...

Han L

;

Li J

;

Gu X

;

Ma B

;

Wang N

;

ZHAO, DAN

(

Elsevier BV

,

2021

)

The baffle is a practical and promising passive damping method of dissipating acoustic energy and increasing acoustic losses in a solid rocket motor (SRM). In this study, numerical studies were conducted conjunction with ...

Derrick, Donald

;

Heyne M

;

Al-Tamimi J

(

2019

)

This paper presents the findings of an ultrasound study of 10 New Zealand English and 10 Tongan-speaking trombone players, to determine whether there is an influence of native language speech production on trombone ...