Effectiveness of weighted blankets as an intervention for sleep problems in children with autism
(2014)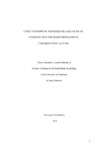 Type of Content
Theses / Dissertations
Thesis Discipline
Health Sciences
Degree Name
Master of Science
Publisher
University of Canterbury. Health Sciences
Collections
Abstract
Sleep problems are common in children with ASD. Despite this, evidence for interventions, particularly alternative approaches such as weighted blankets is limited. Aims. The aims of the study were to examine weighted blankets for: (1) their effectiveness as an intervention for sleep problems; (2) their impact on sleep state organisation; (3) their impact on night-time movement; (4) the sensory characteristics of children responding to the intervention; (5) parent's perceptions of the intervention; (6) behavioural interventions as a second intervention if required. Method. Using a non-concurrent multiple baseline design, five children with autism aged between 7 to 13 years received a weighted blanket intervention with the option of a secondary behavioural intervention. Results. One participant rejected the weighted blanket outright. Four participants showed no substantial improvements in sleep problems or changes in sleep state organisational. Despite this, parents of four participants still perceived the weighted blanket to be moderately effective. The sensory profiles of participants were not related to their response to the intervention. Participants' night-time movements were not found to be suppressed by the weighted blankets. Two participants went on to receive a behavioural intervention, one was successful and the other withdrew from the study before implementing the strategies. One other participant's sleep difficulties resolved over time without further intervention. Implications. The current study neither supported weighted blankets as an intervention for sleep problems in children with autism nor supported contentions of its effectiveness for children with sensation seeking behaviours.
Keywords
autism; sleep interventions; weighted blankets
Rights
Copyright Jane Louise Charleson
Related items
Showing items related by title, author, creator and subject.
Ng, I Pin

(

University of Canterbury

,

2019

)

Sleep problems are one of the most commonly reported concerns among parents of children with Autism Spectrum Disorder (ASD). Unless treated effectively, sleep problems are highly persistent and sometimes continue into ...

Knight, Jacqueline

(

University of Canterbury

,

2017

)

Sleep problems, including co-sleeping, are highly prevalent in children with autism spectrum disorder (ASD). Given the negative secondary effects associated with sleep problems, it is essential that effective treatments ...

Sleep problems are a commonly reported issue for children and adolescents on the autism spectrum. Given the impact of these problems on the child and their family, it is imperative to provide families with an effective ...